Mourning Phase Band Recollections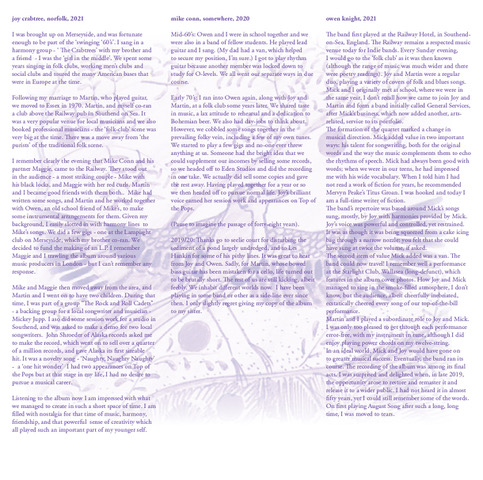 I was asked to provide recollections of the band for the sleeve notes of the album, also called Mourning Phase, to be released on vinyl 30th July 2021 by Seelie Court Records.
The band first played at the Railway Hotel, in Southend-on-Sea, England. The Railway remains a respected music venue today for Indie bands. Every Sunday evening, I would go to the 'folk club' as it was then known (although the range of music was much wider and there were poetry readings). Joy and Martin were a regular duo, playing a variety of covers of folk and blues songs.
Mick and I originally met at school, where we were in the same year. I don't recall how we came to join Joy and Martin and form a band called General Services, after Mick's business, which now added another, arts-related, service to its portfolio.
The formation of the quartet marked a change in musical direction. Mick added value in two important ways: his talent for songwriting, both for the original words and the way the music complements them to echo the rhythms of speech. Mick had always been good with words; when we were in our teens, he had impressed me with his wide vocabulary. When I told him I had not read a work of fiction for years, he recommended Mervyn Peake's Titus Groan. I was hooked and today I am a full-time writer of fiction.
The band's repertoire was based around Mick's songs sung, mostly, by Joy with harmonies provided by Mick. Joy's voice was powerful and controlled, yet restrained. It was as though it was being squeezed from a cake icing bag through a narrow nozzle: you felt that she could have sung at twice the volume, if asked.
The second item of value Mick added was a van. The band could now travel! I remember well a performance at the Lamplight Club, Wallasea (long-defunct), which features in the album cover photos. How Joy and Mick managed to sing in the smoke-filled atmosphere, I don't know, but the audience, albeit cheerfully inebriated, ecstatically cheered every song of our top-of-the-bill performance.
Martin and I played a subordinate role to Joy and Mick. I was only too pleased to get through each performance error-free, with my instrument in tune, although I did enjoy playing power chords on my twelve-string.
In an ideal world, Mick and Joy would have gone on to greater musical success. Eventually, the band ran its course. The recording of the album was among its final acts. I was surprised and delighted when, in late 2019, the opportunity arose to remix it and release it to a wider public. I had not heard it in almost fifty years, yet I could still remember some of the words. On first playing August Song after such a long, long time, I was moved to tears.
January 2020, Little Baddow