My Top Three Fiction Reads of 2022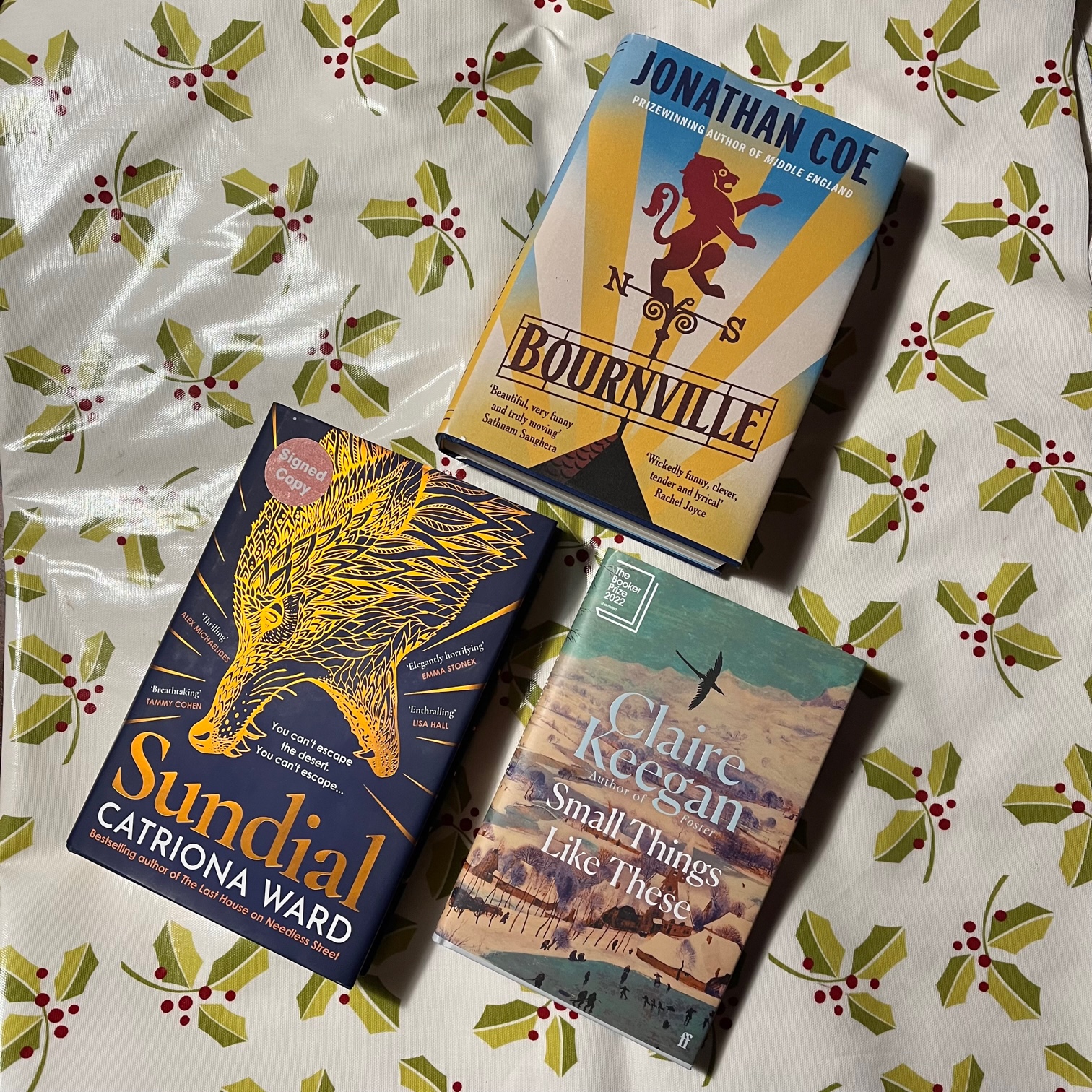 Bournville
This family saga is set mainly in Jonathan Coe's native West Midlands and London. It plays out through seven events that gripped the British nation, including VE Day, four Royal occasions, the 1966 World Cup and the seventy-fifth anniversary of VE Day.
A notable aspect is the author's love for his characters, despite their shortcomings, some of which are nowadays attributed to the attitudes of their day. They nevertheless have good intentions, although they do not always live up to them. The same cannot be said of the observations of our politicians, whose actions often fall short of what our characters expect.
This has the effect of eliciting the reader's sympathy and affection for the cast. Readers who have lived through some or all of these events will identify with how views, held widespread at the time, have changed over the years. As with all families, the dynamics of relationships change over time, whether due to personal circumstances, including the fortunes of the Cadburys Bournville factory, individual ambitions and the political climate.
Several coincidental meetings, often years apart, put past events into perspective and change the characters' and our views of what originally happened., as is the case in real life. I enjoyed the wry humour throughout the book. A mother gives her son chocolate whenever he visits, well into adulthood. A commonly repeated phrase is 'all that caper', which lightens the text whenever it appears. There is also an in-joke for Jonathan Coe readers in the form of a quote from B.S. Johnson.
Bournville shares with Coe's previous book, Mr Wilder & Me, a warmth and understanding of human behaviour and intentions that most readers will recognise and enjoy.
Sundial
Rob is in a toxic marriage with Irving, complicated by her fear that her daughter Callie will harm her younger daughter, Annie. Rob takes Callie off to Sundial, in the Mojave Desert, where Rob grew up with her twin sister, Jack, as adopted children of two scientists. The parents were engaged in mind control experiments on dogs, using drugs and wires implanted into their brains. These are based on the MK Ultra experiments undertaken by the CIA on dogs and humans in the 1960s and 1970s.
The main themes of the book are control and dependency. The main characters are all manipulating or trying to control someone else but, for various reasons, are dependent upon the others and are forced to tolerate appaling behaviour. 
The story moves back and forth between point-of-view recollections of growing up in Sundial and the modern-day return. There is a constant sense of danger as the reader knows at least one person will do something terrible to another or has done so in the past. The many twists and revelations in the story leave us unsure who will do what to whom. The plot includes revealing conversations with imaginary friends and a fictional retelling of Rob and Jack's childhood, which Jack has set in an Enid Blyton-type boarding school.
The early accounts of the experiments on dogs seem long but are relevant to the story. The truth is slowly revealed, and the book races towards a dramatic conclusion. I read the last eight pages in a sitting.
As well as the wide-ranging cruelty, there are episodes of unexpected kindness and forgiveness. The writing is strong, and the dialogue convincing, with many memorable phrases and deep insights in this gripping, character-driven horror novel.
Small Things Like These
Shortlisted for the Booker Prize, the story is set in 1978 in a small town in rural Ireland.
Bill Furlong was brought up by a Protestant widow following the death of his mother, who gave birth to him illegitimately. His stepmother helped him to start a coal and timber merchant business.
Bill is respected both in town and by his employees, allowing customers in genuine hardship credit. This is despite their home needing new windows and his delivery lorry needing replacement. His caring relationship with his wife and five daughters is founded on tolerance and his wish to avoid confrontation.
He uncovers evidence of gross mistreatment of children at the local convent, operating as a Magdalen Laundry, set up to raise and educate 'fallen women'. He realises that his acceptance of this situation must change when he discovers a young girl locked in a coal cellar. She begs him to take her home; his response is to hand her over to the Mother Superior, who assumes a caring attitude. Bill becomes aware that the whole town, including his wife, is turning a blind eye to the abuses. On Christmas Eve decides he cannot be part of this conspiracy. The story is based on fact. Only in recent years have the Magdalen Laundries been exposed for what they were.
It is a novella, rather than a novel, at one hundred and ten large-type pages. It nevertheless creates an impact and elicits a reader response worthy of a longer book.
I have read other work by Claire Keegan. She is a fine writer and uses some original imagery. One of my top reads for 2022.