The Sunken Land Begins To Rise Again by M. John Harrison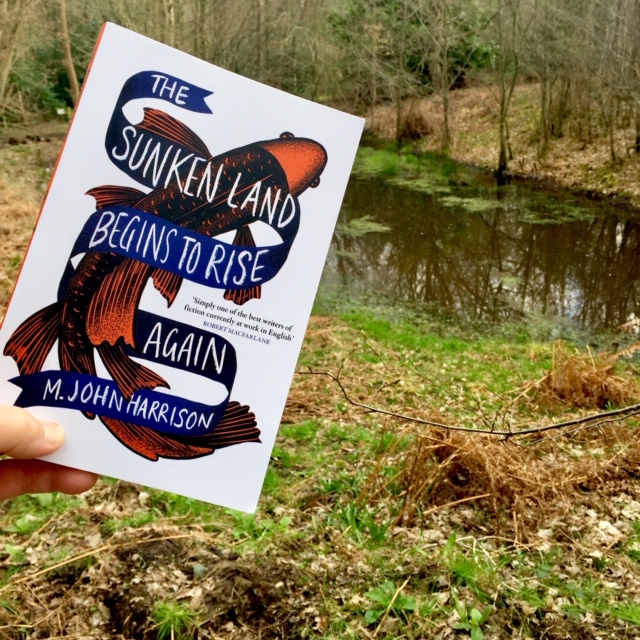 This is the first work by M. John Harrison that I have read; I am impressed.
There are many strengths, especially the originality of the language and the creation of an ominous atmosphere. For once, the term 'brooding' is apt.
Shaw meets Victoria in a pub on a wet afternoon – there is a lot of water in this book: rain, rivers, floods, ponds, a mysterious drowning – they begin an on-off distance relationship, moving between west London and Ironbridge, where Victoria embarks on a never-ending project to renovate the house she has inherited from her mother. Both Shaw and Victoria are trying to kickstart their lives and to escape from the tedium of humdrum jobs and rise above the meaningless lives led by their acquaintances, who seem to accept their fate uncritically.
Continuous rain permeates the story, in a way reminiscent of Iris Murdoch's Bruno's Dream. The threatened floods and rising waters herald the resurgence of a chthonic race of fish-like creatures that may be recognising an opportunity to re-emerge from beneath the ground. The writing reminded me of Angela Carter, using a matter-of-fact style to tell an almost magic realist story.
The author's creative use of language with its images, constructions and comparisons is refreshingly original. The author takes enormous leaps to create striking verbal images without being pretentious or artificial.
This is weird fiction at its peak. Mysterious events are treated as if they are normal. Odd creatures encountered are dealt with but not reported. The obsession of several of the characters with Charles Kingsley's The Water Babies is left to the reader to decipher.
This is a book that would be enjoyed by admirers of J. G. Ballard and David Lynch. I am grateful to have discovered M. John Harrison and am looking forward to reading more of his work.