My Author Talk to Pupils at Chelmsford County High School, July 2016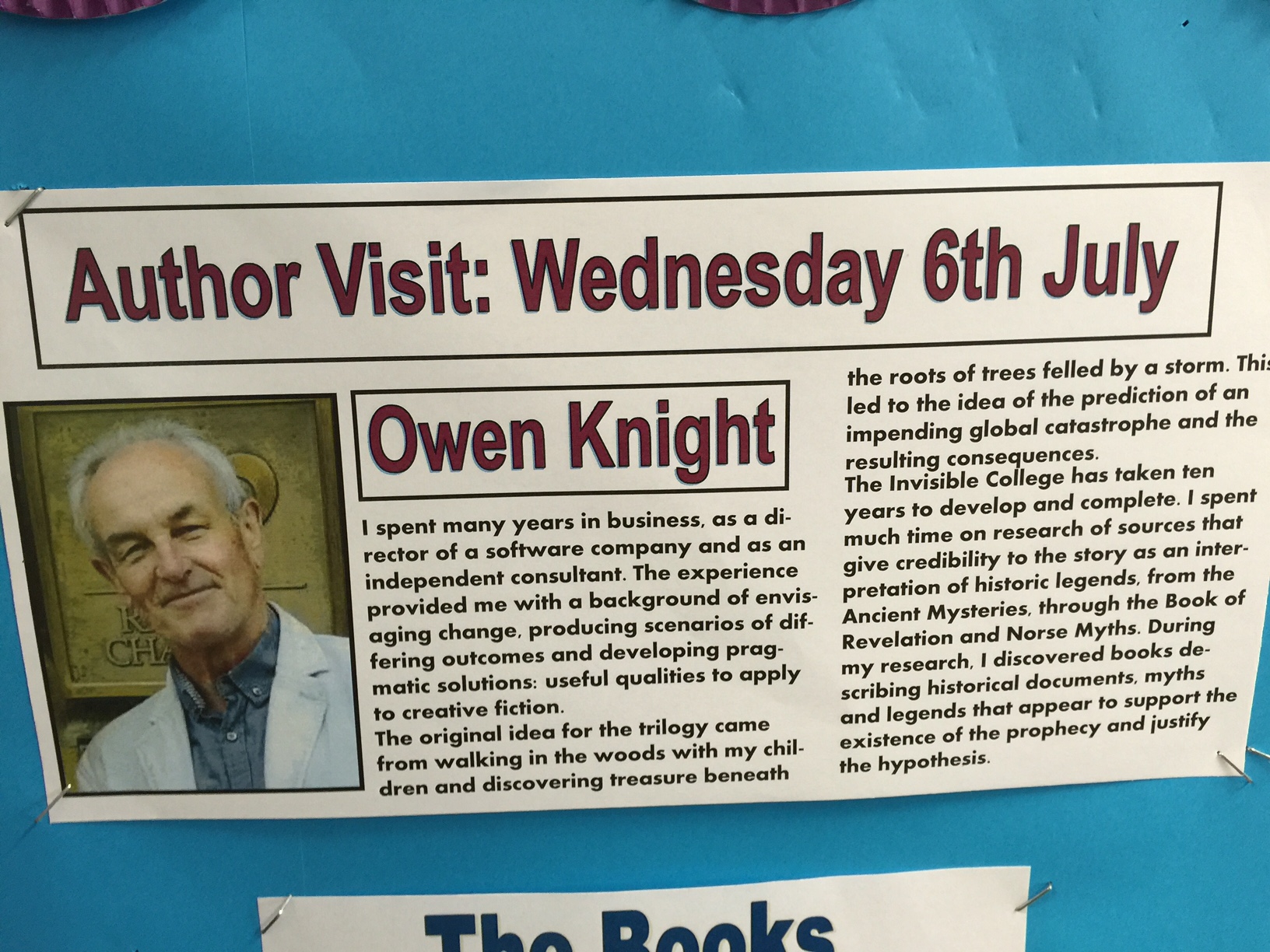 I was delighted to have been invited to Chelmsford County High School for Girls earlier this month to give two talks to groups of year sevens on my The Invisible College trilogy for young adults. I have visited the grammar school on many occasions, as two of my daughters, Emily and Hannah, attended, progressing to university in 2001 and 2013 respectively.
This was to be the youngest audience I have addressed and I was keen for it to go well. I was given a warm and enthusiastic introduction by the librarian, Mrs Angela Martin. For some reason I had been under the impression that each group would be composed of ten; ninety-six attended the first talk and a further twenty-five the second!
The talk had been highlighted on the library notice board, although I am glad the advertised lunchtime cream tea was scheduled for a different date, as otherwise this would no doubt have proved an equally if not more attractive option.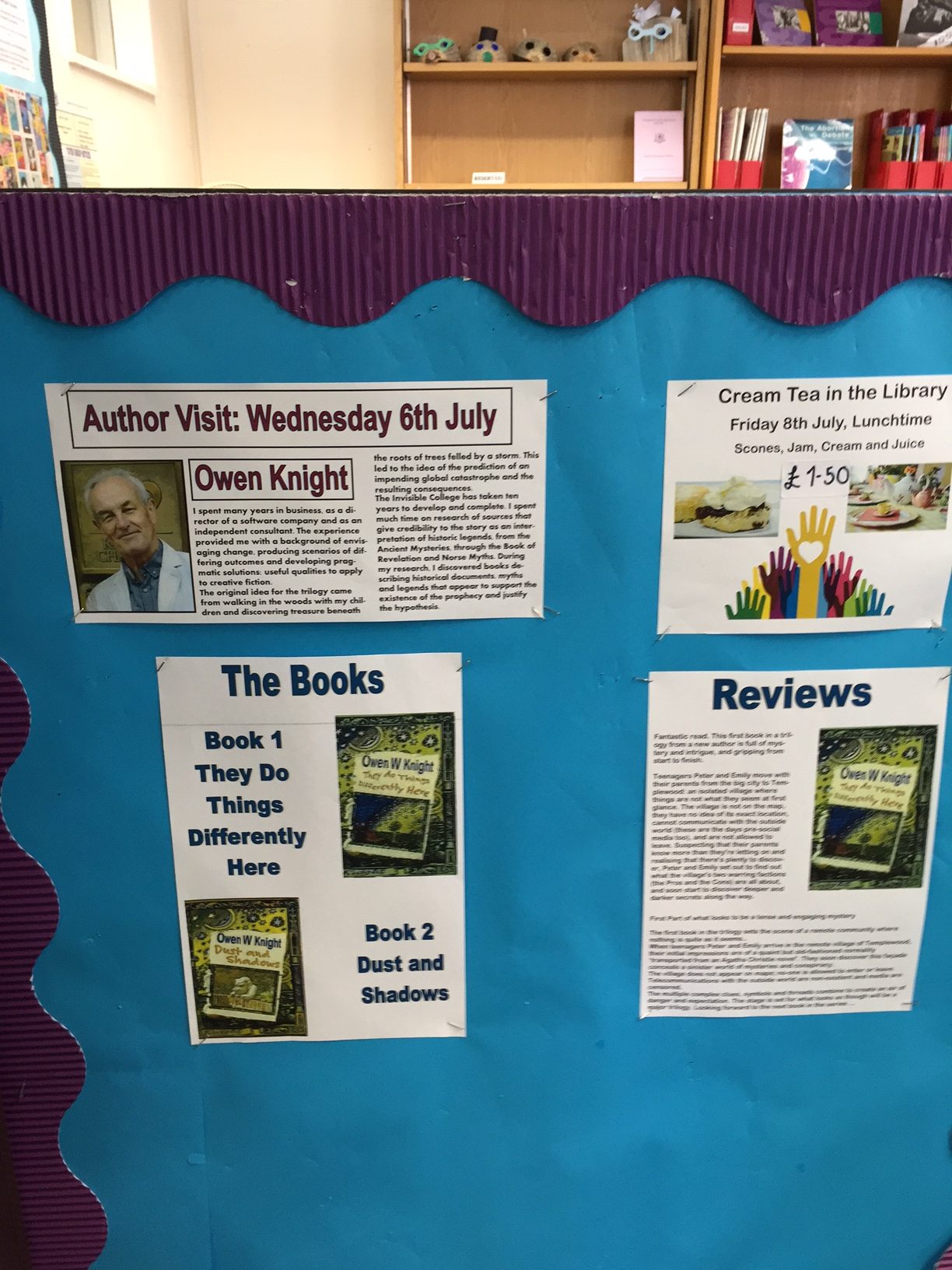 I decided that the format of the sessions would be composed of:
A brief story overview
The detailed story description, including themes, key elements in the story and the research involved
How I became a writer
The writing process
The road to publication.
I wanted the sessions to be as interactive as possible to encourage interest and to inspire questions. I posed a number of questions to the girls myself as to whether they would like to become writers themselves, or whether they would but lacked confidence. I explained that much of what they do in their school work involves research, description and communication – all of which are essential attributes for an aspiring writer.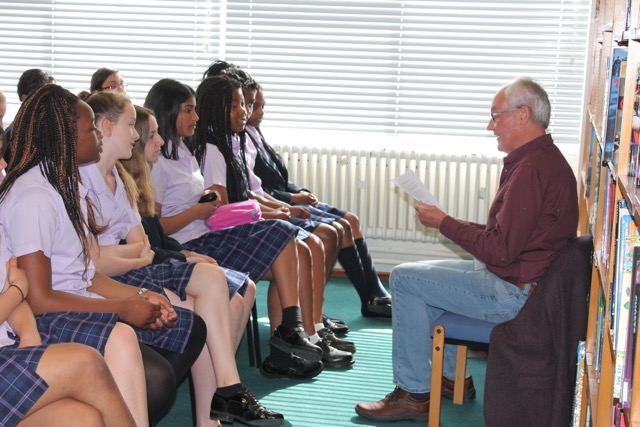 I illustrated some of the challenges encountered in plotting a dystopian novel by asking how some of the features in the book could be made realistic. For example, why it was it that, even in a remote village, teenagers in difficulty could not contact the outside world using mobile phones and social media.
My favourite answer was, when I asked why the community of Templewood does not appear on maps, one of the audience responded, 'because it doesn't exist'. I thought this had an existential quality to it; this young lady will go far!
I thoroughly enjoyed giving the talks. The girls were a lovely audience: intelligent, questioning, interested, polite and cheerful.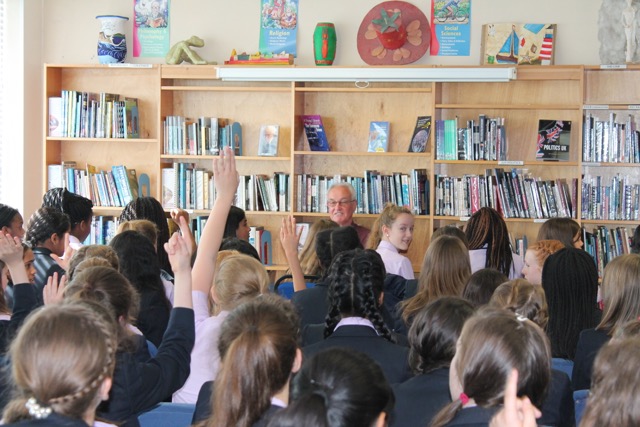 Three books comprise The Invisible College trilogy:
Book 1: They Do Things Differently Here
Publication Date: August 2015
Paperback Edition – ISBN 978-1908135711
eBook Edition – ISBN 978-1908135728
Book 2: Dust and Shadows
Publication Date: 10th February 2016
Paperback Edition – ISBN 978-1908135148
eBook Edition – ISBN 978-1908135704
Book 3: A Perilous Journey
Publication Date: Autumn 2016.
The books can be ordered from Amazon UK here, or from Waterstones here, or Blackwell's here.
They are also in stock at Red Lion Books, Colchseter