The Invisible College Trilogy: Sales Rankings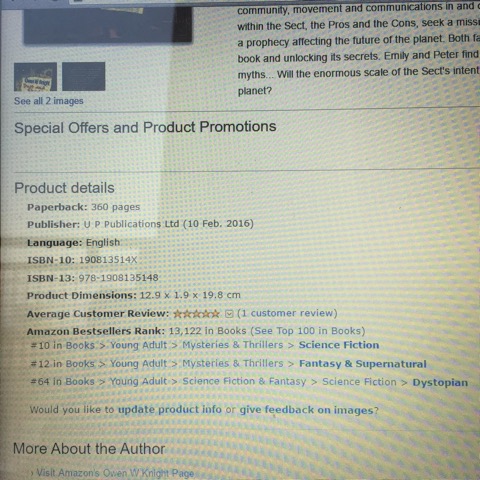 In common with most authors, I am obsessed with indications of sales figures of my books, not for the royalties, but as confirmation that they are gaining a greater audience. I have quickly learnt that selling books is like selling any other commodity: if no-one is aware your product exists, then no-one is going to buy it.
At present I don't know how many copies have been sold of They Do Things Differently Here or Dust and Shadows, books 1 and 2 of The Invisible College Trilogy. As a mere author, I don't have access to the Nielsen statistics from which best-selling book sales are reported in the media. I could, of course, ask my publisher and she would no doubt tell me and be equally willing to provide regular updates, but something within me worries that this will break the spell or illusion of impending success.
Regularly, although not quite daily, I look at the barometer of my book rankings on my Amazon author page. Obviously these only represent Kindle and paperback sales from Amazon. I have no idea how many are sold through Waterstones and other retailing chains, independent booksellers or even directly by my publisher (although on their website I am listed with 'Best Sellers').
And so I was delighted when, one day in March, the above figures were displayed for Dust and Shadows. I fully recognise that the three genres are fairly narrow. I nevertheless feel personal pride in achieving a 'top ten' success.
Another, minor, source of satisfaction is when one or both of the paperback editions states 'Only 2 left in stock (more on the way)' and to see this figure change from day to day.
I was encouraged by my recent Goodreads giveaway, which attracted over 800 applicants. 335 people have added They Do Things Differently Here to their 'to read' list.
In other news, I have been invited to talk to two groups of pupils at a local grammar school in July. I hope to tie this in with another interview on Tony Fisher's BBC Essex programme (during the previous interview he invited me back to discuss Dust and Shadows) and another book signing at Waterstones Chelmsford.