Walking the Pacific Crest Trail: Adventure of a Lifetime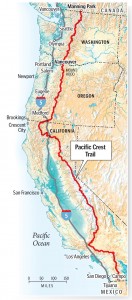 The Pacific Crest Trail spans 2650 miles (4265 kilometres) from the US/Mexican border in Campo, California, to  Manning Park, just north of the US/Canadian border. It crosses three states (California, Oregon and Washington), six national parks and some of the most remote wilderness areas in the United States.
When my son Charlie announced his plan to take six months out to walk the entire trail, I felt a mixture of trepidation, admiration and envy. He will set off in April 2016 and will be out of mobile communications reach for much of the time.
As a by-product of his walk, he will be raising funds for the charity SANE, whose celebrity supporters include Ruby Wax, Bradley Walsh, Rory Bremner, Ian Hislop, Joanna Lumley, Michael Palin and Trevor Phillips.
Charlie can describe the adventure far better than I can, so please take a look at his website and blog, here. Be sure, too, to look at the many splendid photos from his previous trips, including the GR10 Pyrenees trail from the Atlantic to the Mediterranean and the UK Coast to Coast walk.
But most importantly, please consider sponsoring him or making a donation to SANE, using the link on his blog.