The Invisible College Trilogy: Marketing Success, December 2015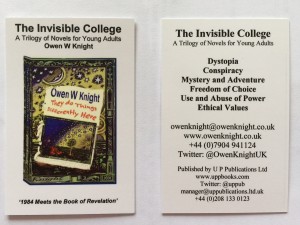 A positive day with some success achieved.
I spoke with Lee, the manager of Waterstones Chelmsford. He has kindly agreed to speak with his buyer about ordering some copies of Book 1 of my trilogy, They Do Things Differently Here. This is excellent news in the run up to Christmas. We also discussed a book signing in January.
Waterstones' Southend-on-Sea branch has also agreed to stock copies and is deciding on the size of their initial order. They too have agreed to a book signing in January.
My publisher has suggested contacting independent local bookshops to promote myself as a local author. Sadly, I have only been able to find a web presence for five such shops in Essex (please let me know if you can locate more). Today I visited The Book Inn, in The Broadway West, Leigh-on-Sea. This is a vibrant area well-known for small independent shops. I had the pleasure of meeting two charming ladies, Lisa and Nathalie, the mother and daughter who run the shop. It has an impressive stock, including a children's and young adults' section, and has a welcoming café. They expressed interest in stocking the book and in arranging a signing. What more could I ask (perhaps a cameo role in The Apprentice)? They suggested I contact the Leigh Times to ask them to run an article in their publication, which is circulated to every home in the area.
Today I have also contacted Tony Fisher at BBC Radio Essex, whom my daughter Emily kindly identified as occasionally interviewing local authors. I have held back from local media until I was confident the book(s) would be stocked locally, as well as listed on Amazon.
A positive response from Radio Essex would really complete my day.
More news shortly on the publication date for Book 2, Dust and Shadows.