Tirta Empul: A Holy Spring and Temple in Central Bali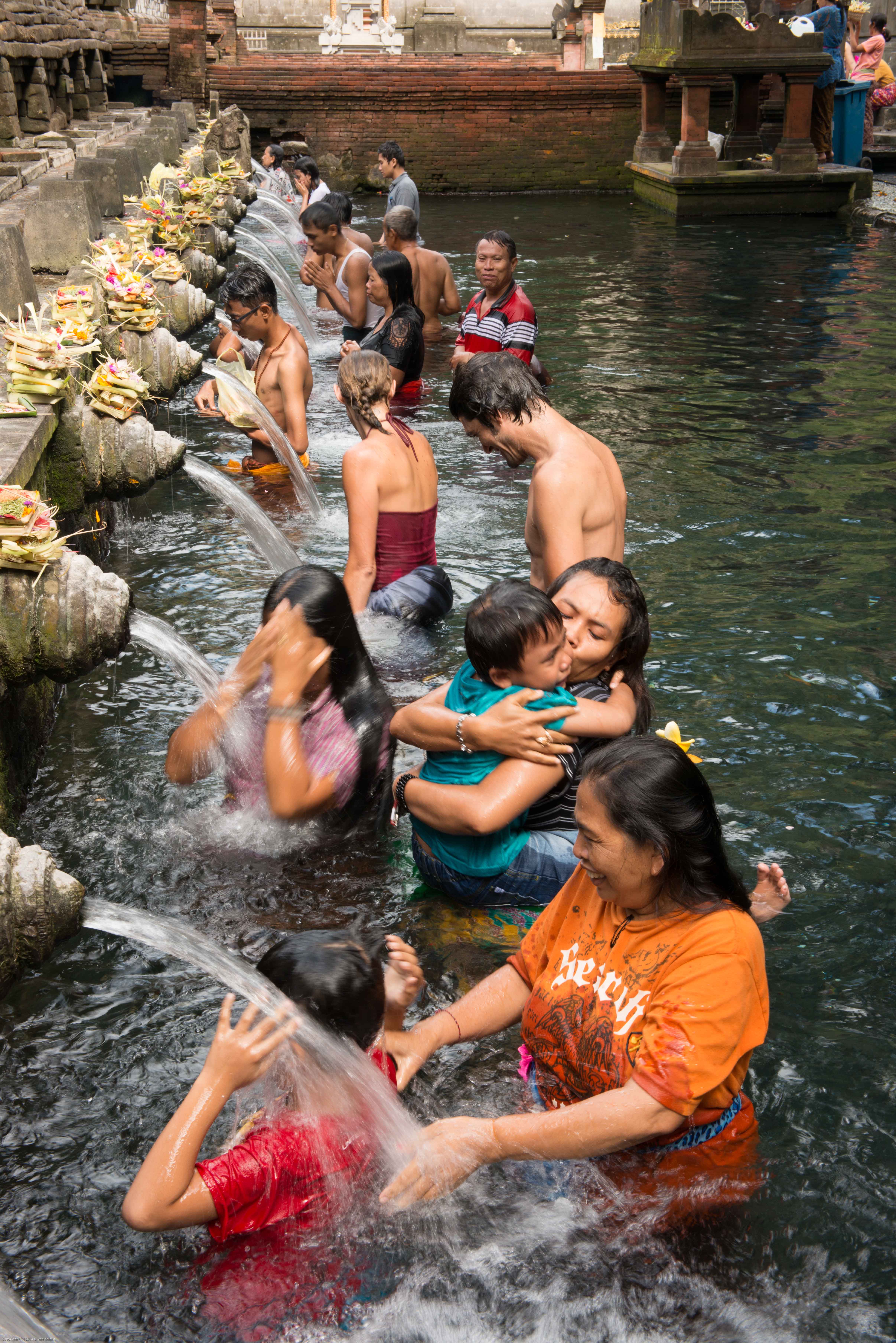 Pura Tirta Empul dates from around CE 960, when a temple was built on the site of the spring. According to legend, the ancient ruler Mayadanawa angered the gods by suppressing Hinduism and the freedom of his subjects to worship freely. An army, led by the god Indra, pursued Mayadanawa, who poisoned a nearby river making the troops fall ill. Indra thrust his staff into the ground to release a spring of pure water, which revived the troops.
Today, Balinese pilgrims travel from all over the island to purify themselves in the pools, fed by the springs which rise in the inner sanctuary of the temple. After praying at a shrine, the devotees  enter the clear water, fed from the mountains to the the spring and into the bathing pool. With hands  together, they submerge themselves under each of the spouts, progressing from the first to the eleventh. The twelfth and thirteenth are reserved for purification in funerary rites.
Bathers queue patiently, awaiting their turn to either splash themselves gently or fully immerse themselves in the gushing water in the second of the three pools.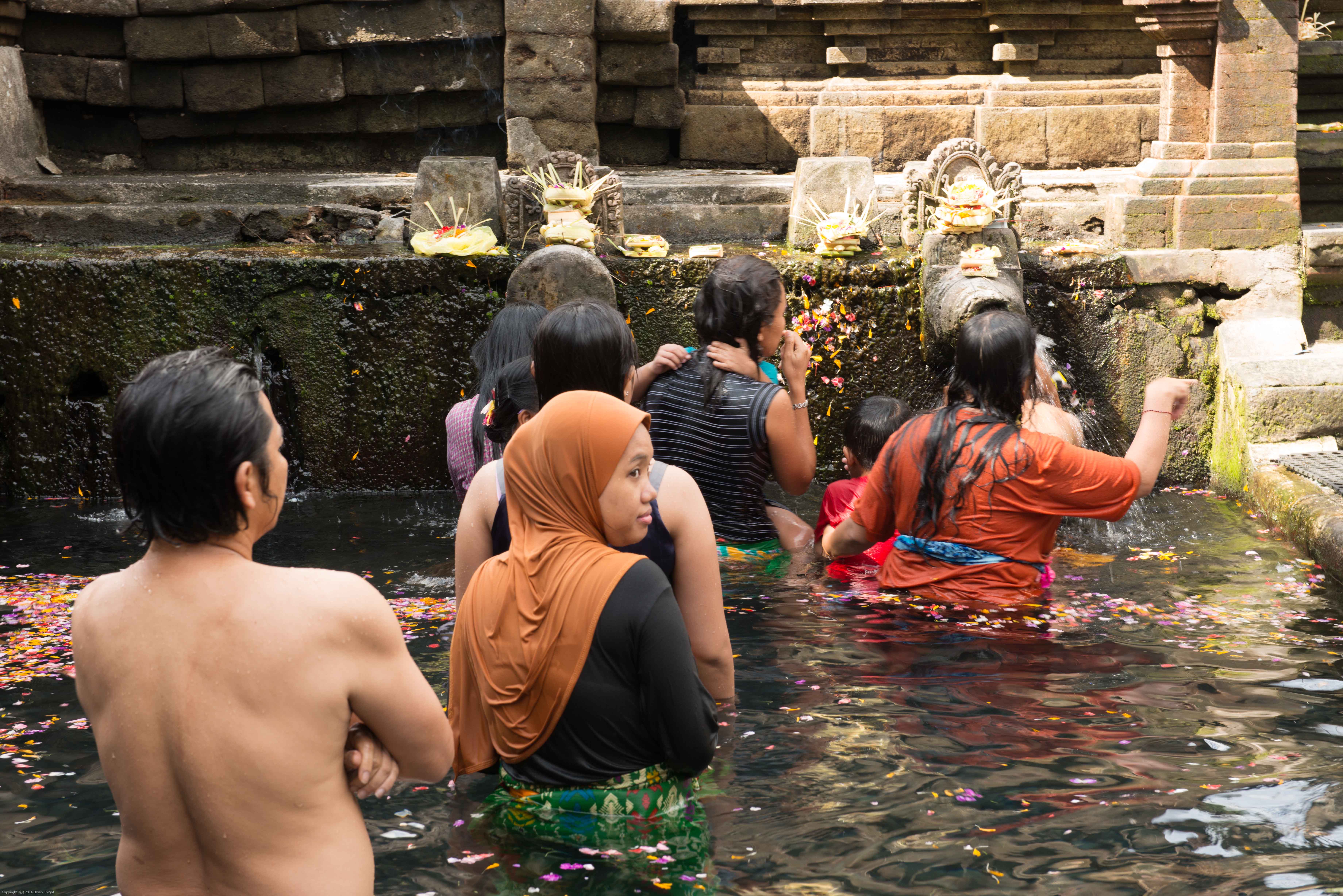 Although a purification rite, it is treated as a joyous social occasion, with all members of the family taking part. Some men will strip to the waist, but most enter the water fully clothed.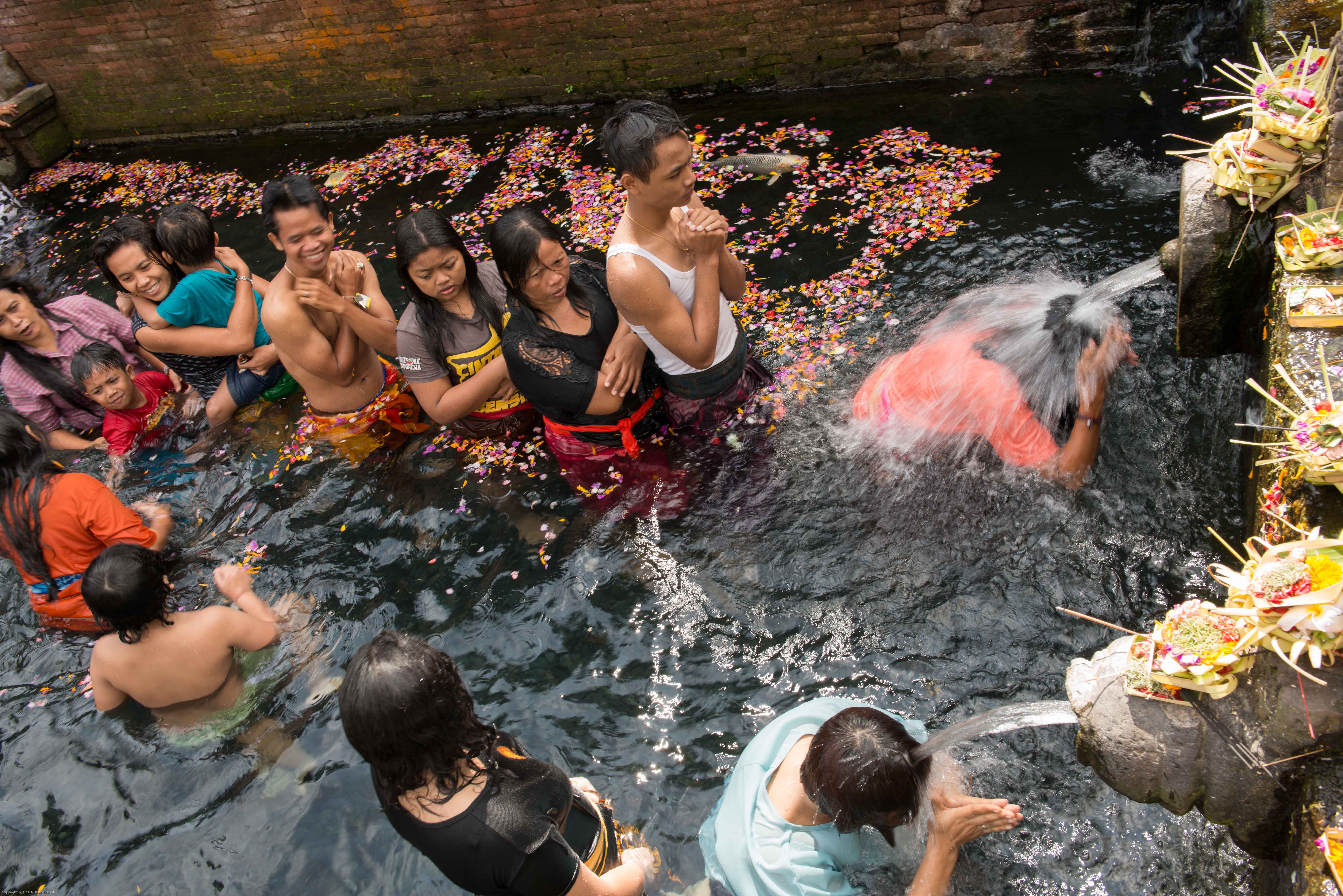 In the third pool, these two serene bathers were oblivious to everything other than the refreshing water…

…while these new arrivals found much to chat about.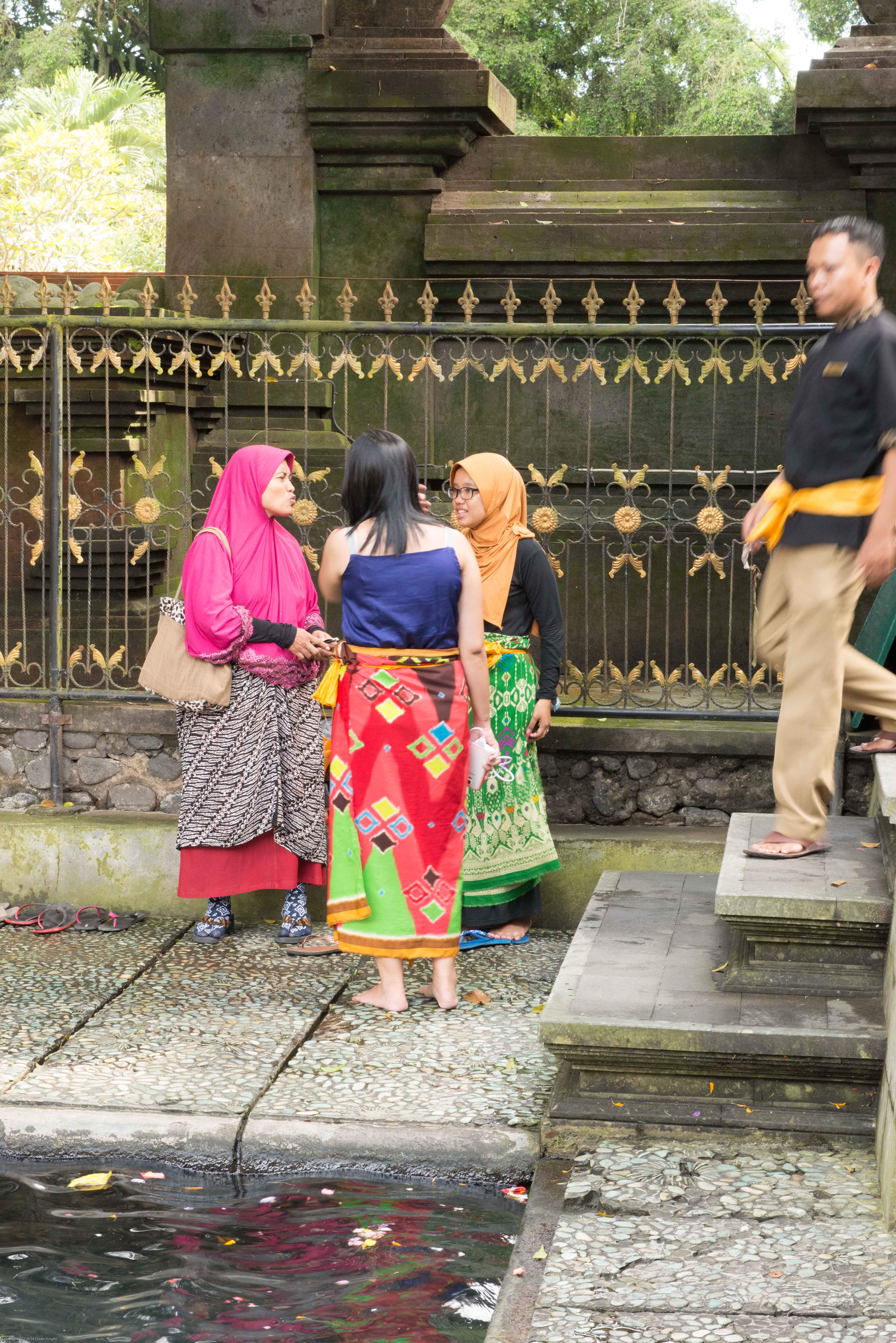 The site is regarded as one of the most holy on Bali. Indeed the spring has been so regarded since at least the tenth century. The temple buildings are ornate and heavily gilt, additional decorated with statues old and new.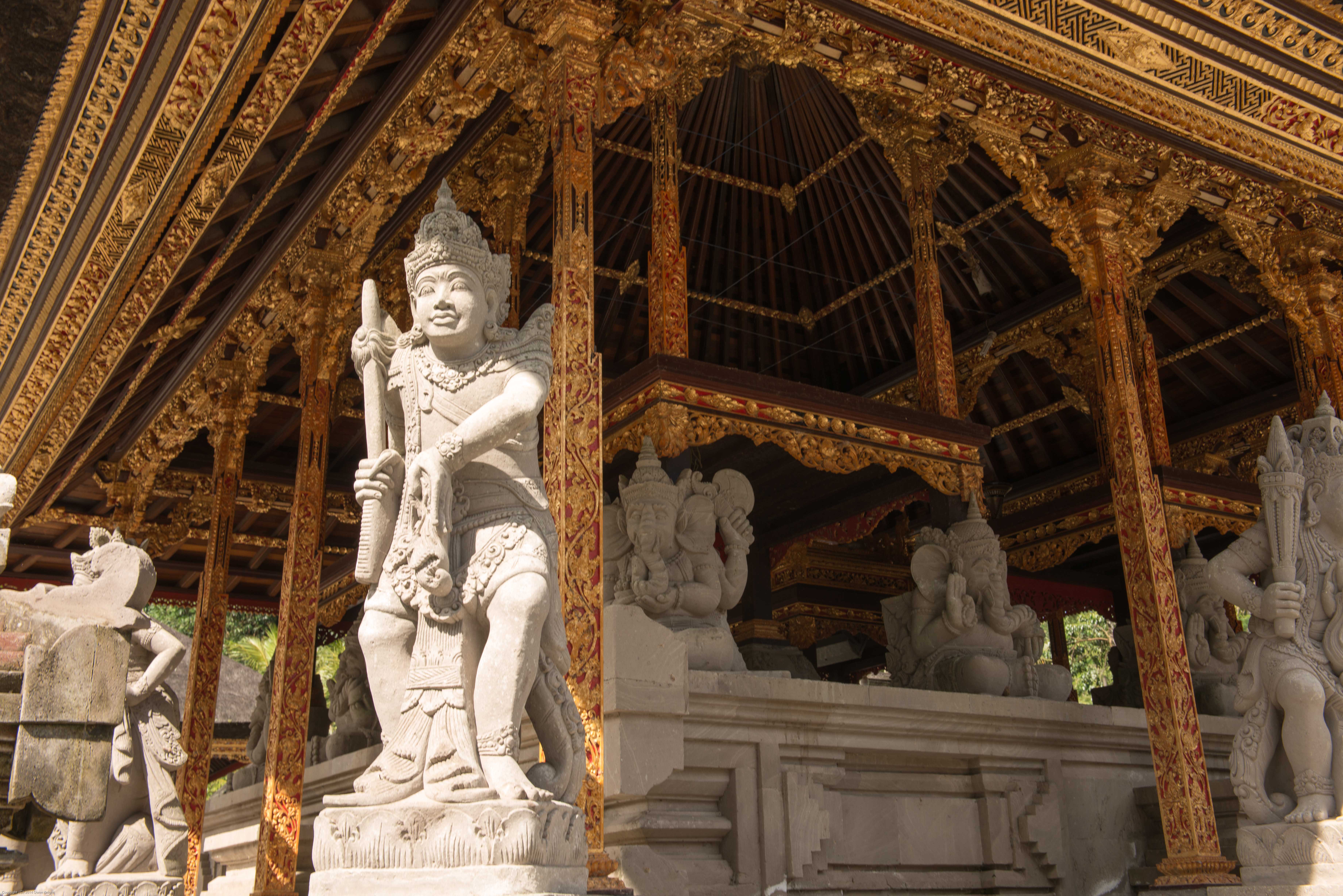 The temple guardians and attendants welcomed questions and were happy to be photographed.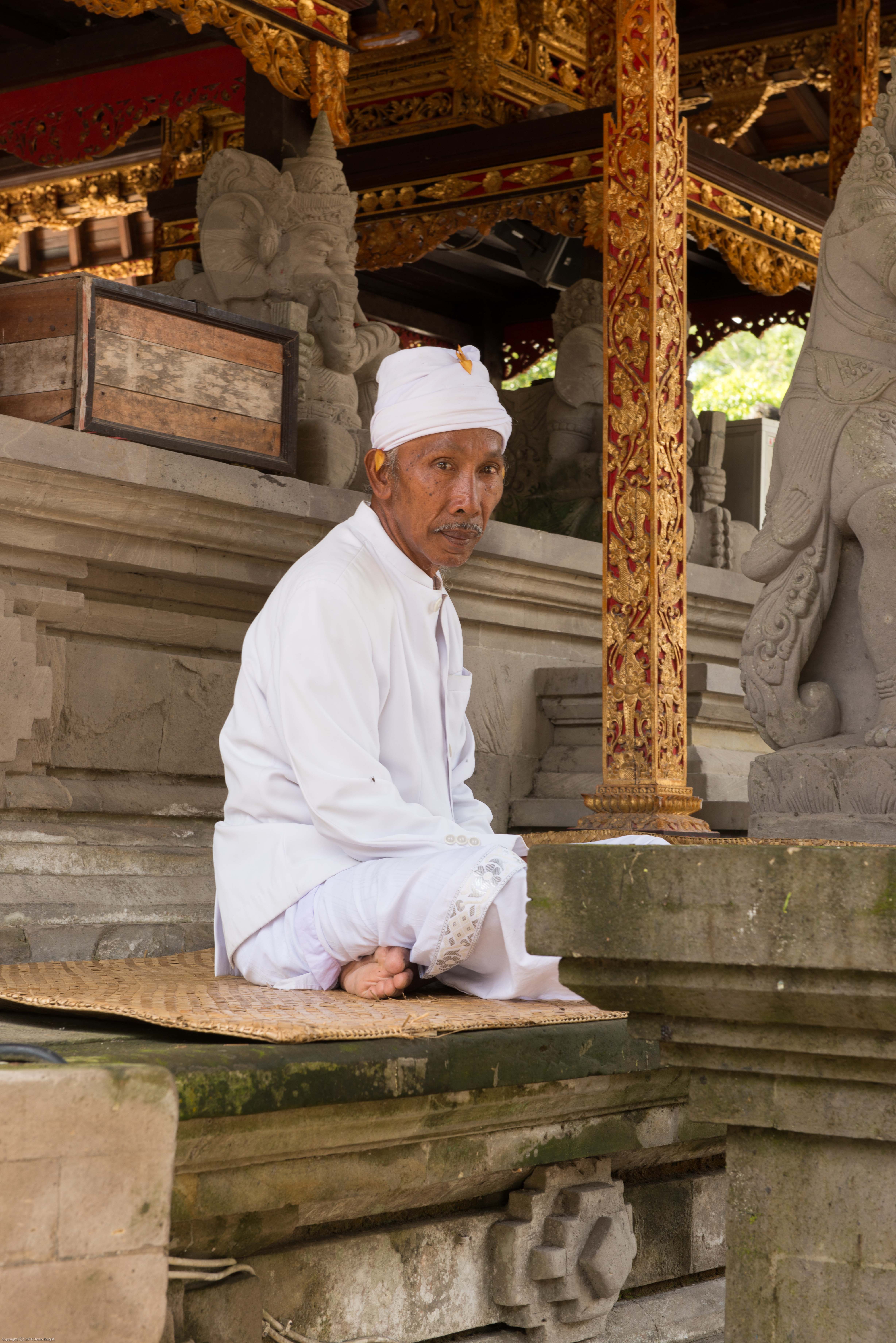 While I was photographing, a number of families arrived to take part in what appeared to be a private ceremony. I was wary of photographing a large group enjoying their personal occasion, but this family typified the composition, with each family bringing a combination of offerings and food…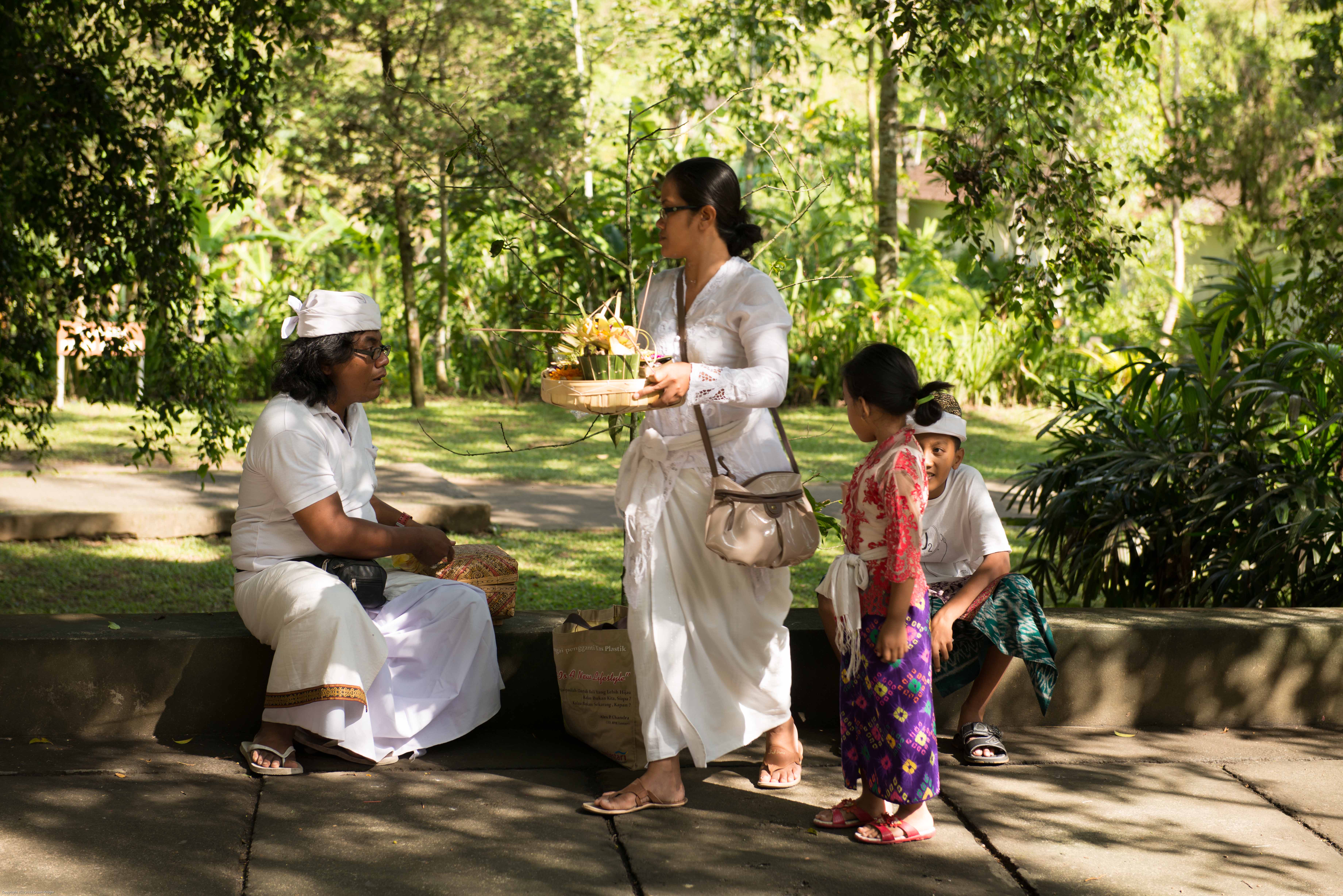 …to be laid out on tables in front of the temple buildings.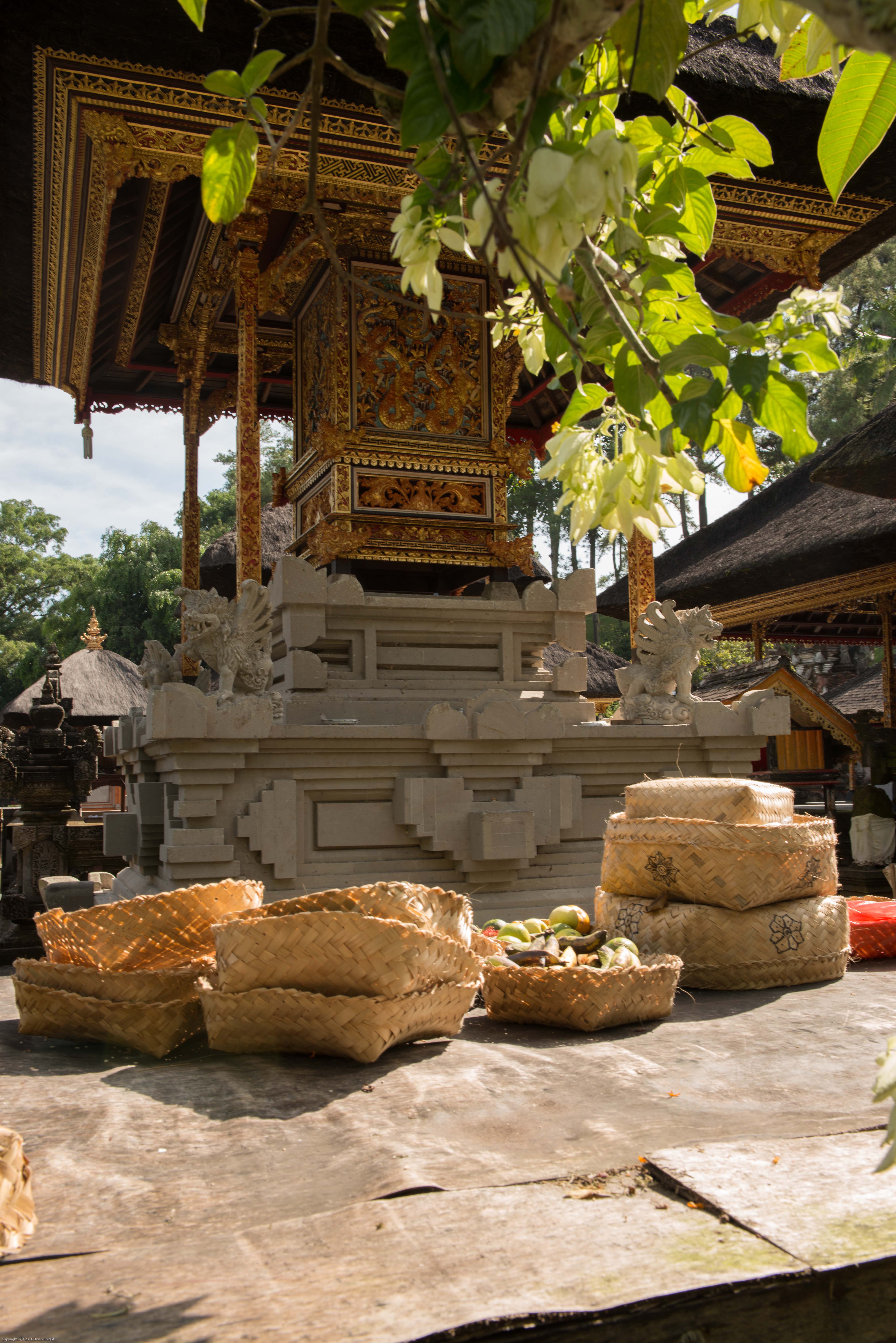 Many of the food containers were beautiful objects.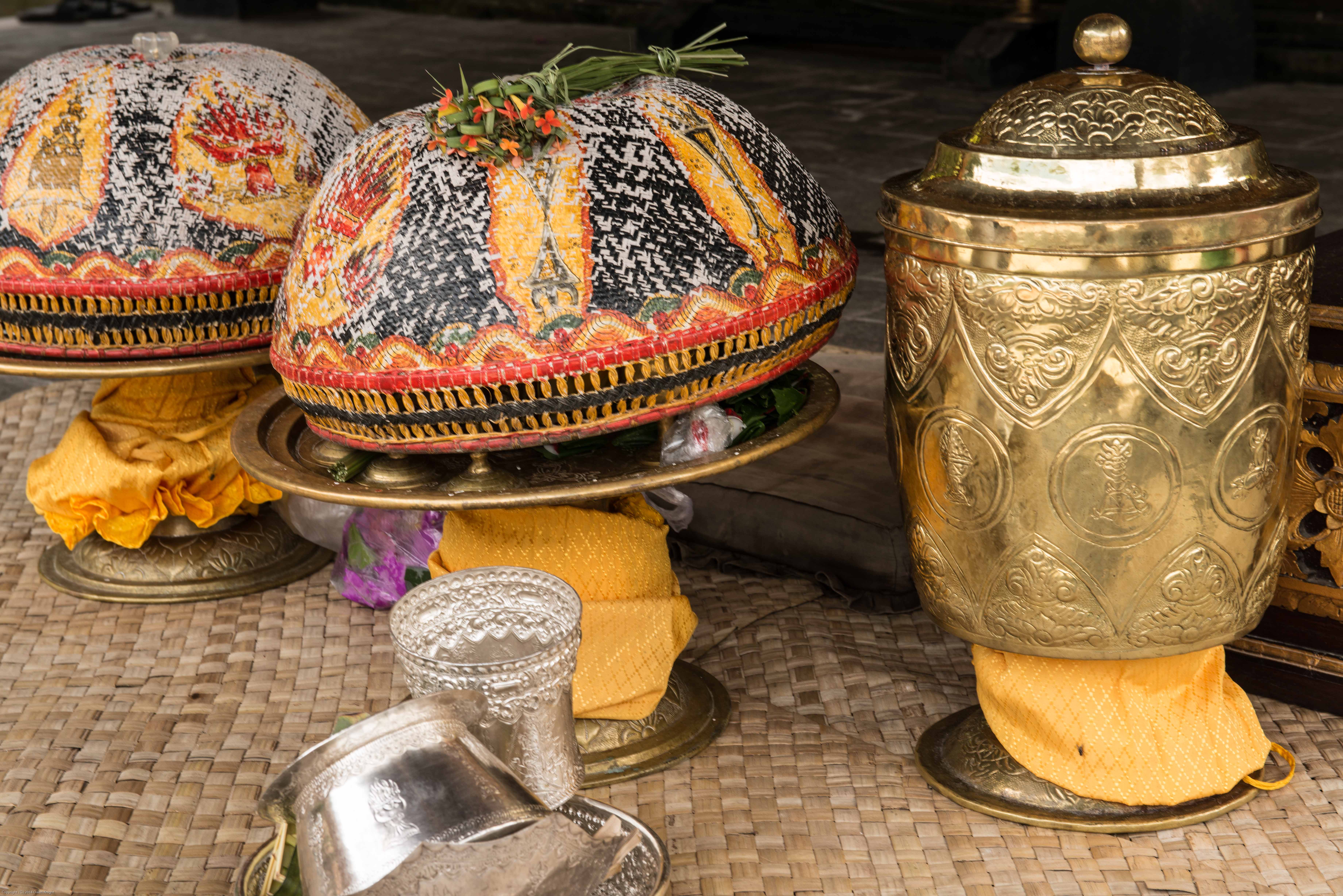 The springs fed the pools, which in turn fed the ponds in the lower grounds, where the still waters echoed the calm.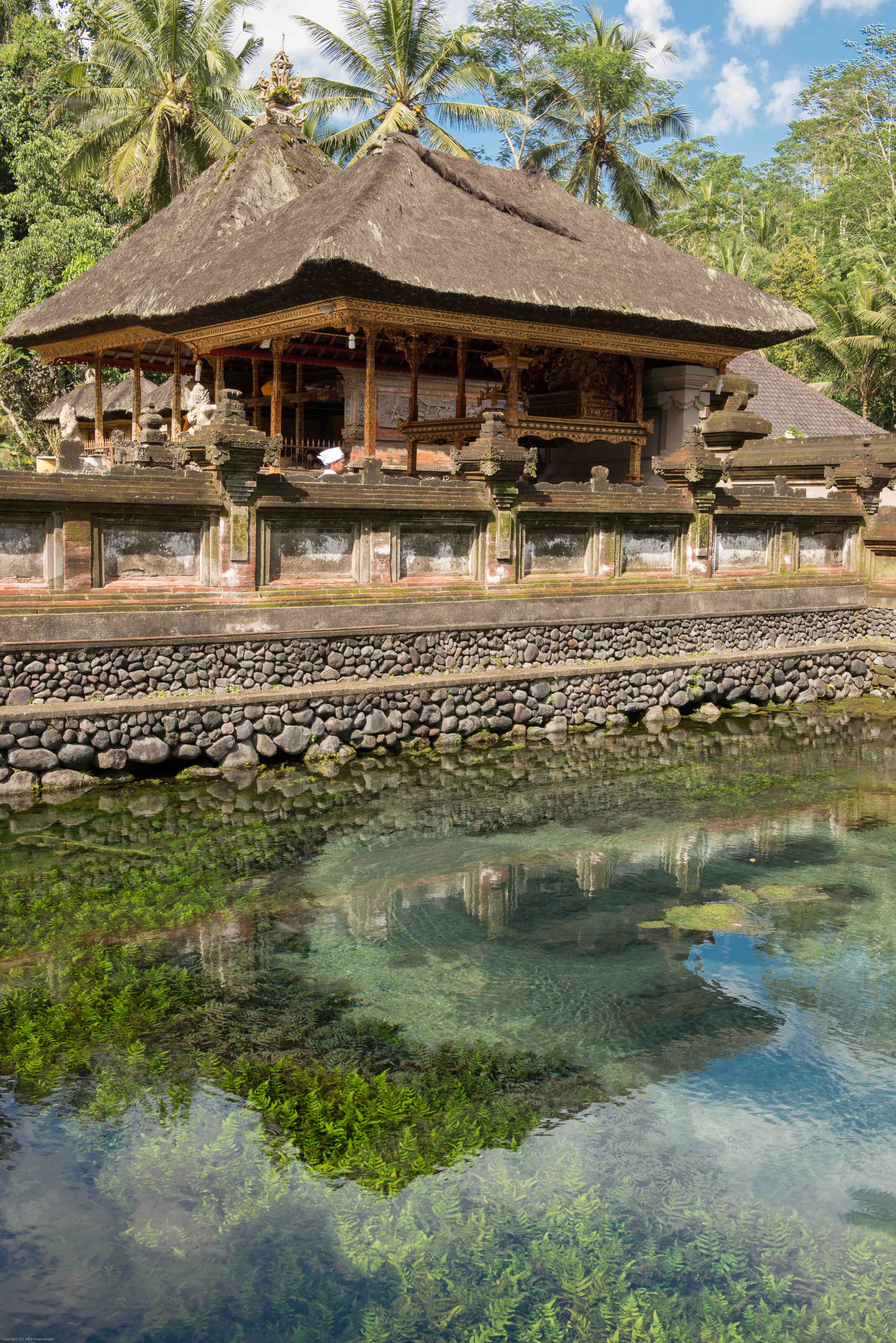 The ponds teemed with carp, whose size was no doubt due to the amount of food they received from visitors, as can be seen in this commonplace scene of today.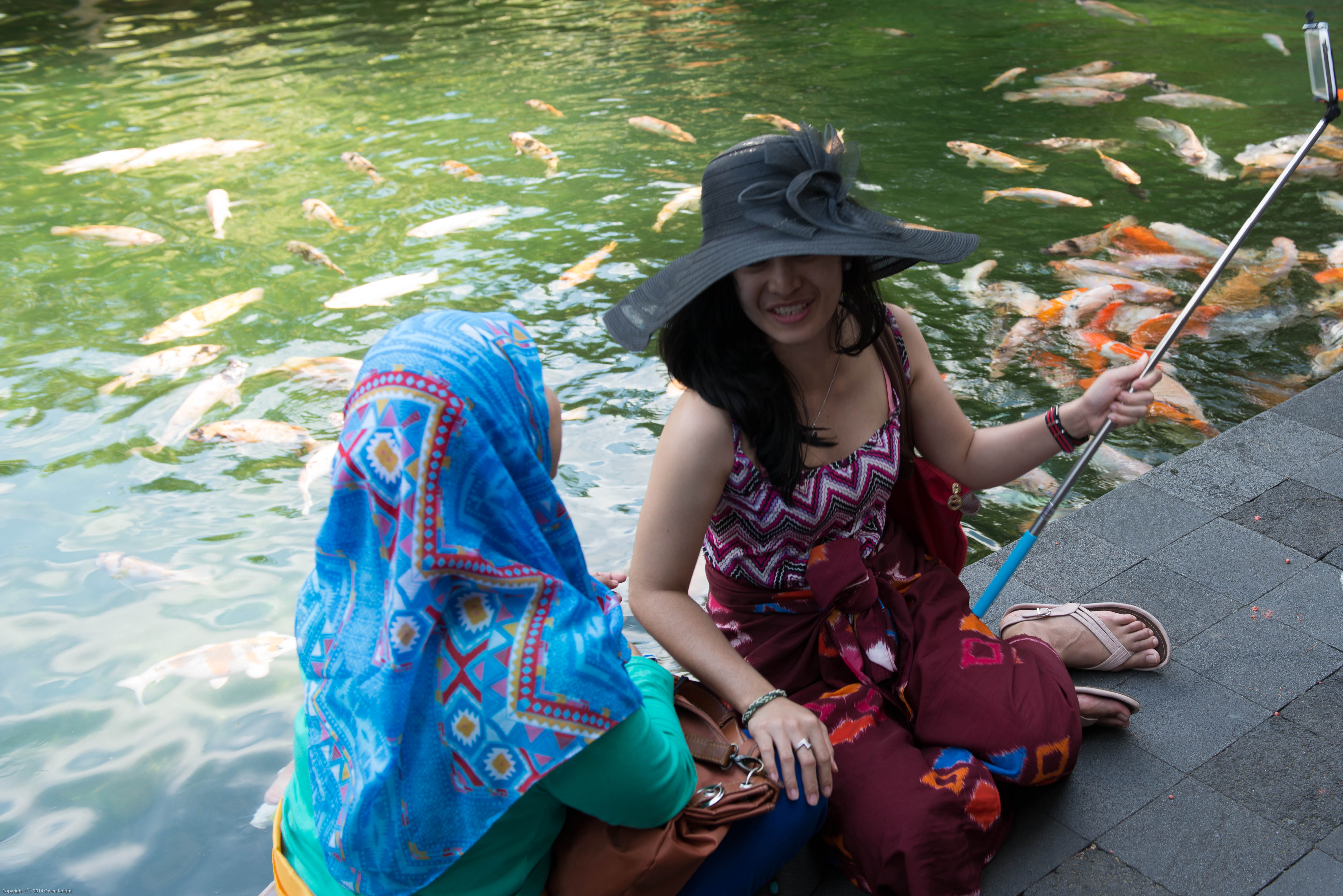 And at the end of the visit, what better than the ubiquitous market, selling mainly local crafts.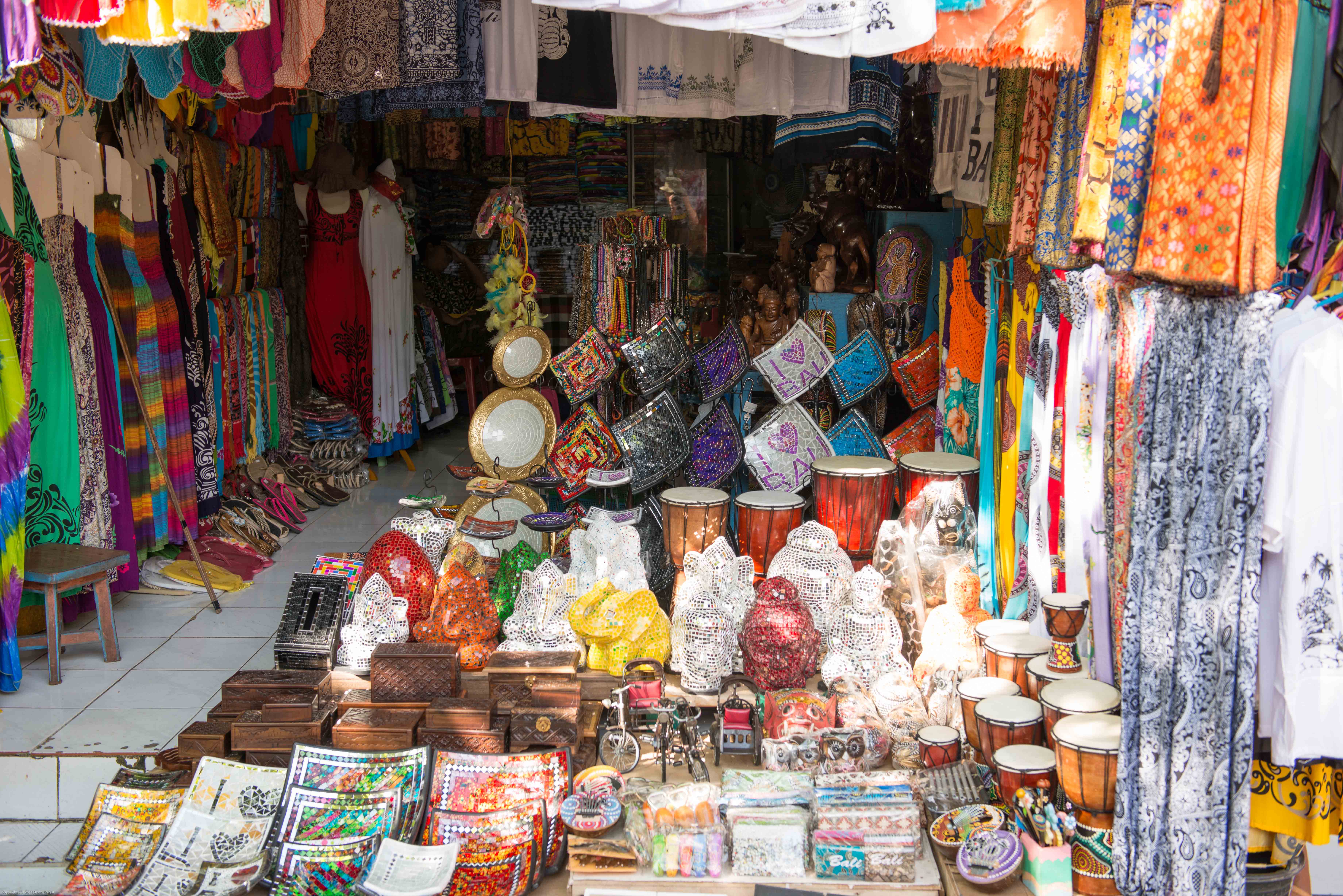 Tirta Empul is a most enjoyable place to spend a couple of hours enjoying a local cultural gem and observing local people engaging in local traditions and enjoying family gatherings.