Rabat, Morocco: A Brief Selective Tour. Part III East of the Centre
The kasbah and the medina represent one side of old Rabat. A more classical aspect is to be found to the east of the centre. The main sights of Rabat are within half an hour's walking distance of each other but for those who so choose, taxis are inexpensive.
The Tour Hassan was design as the minaret for what was intended as the largest mosque in the world. building was begun in 1195, but was halted in 1199, after its sponsor, Sultan Yacoub al-Mansour, died. By then the tower had reached 44m, about half of its intended height. The remainder of the mosque was also left incomplete, with only the beginnings of several walls and 200 columns being constructed. The tower was built with ramps in place of stairs, to allow the muezzin to ride a horse to the top of the tower to recite the call to prayer. The mosque was destroyed by an earthquake in 1755. Only the remains of the pillars survive.
The tower, when I visited, was under repair and covered in scaffolding. I therefore restricted photographs to the impressive array of pillars, which give a feeling for the intended size of the mosque.
Here is another view towards the mausoleum of the former Sultan, later to become King, of Morooco, Mohammed V.
The exterior of the mausoleum is plain white, broken by the green roofs and copper ornamentation.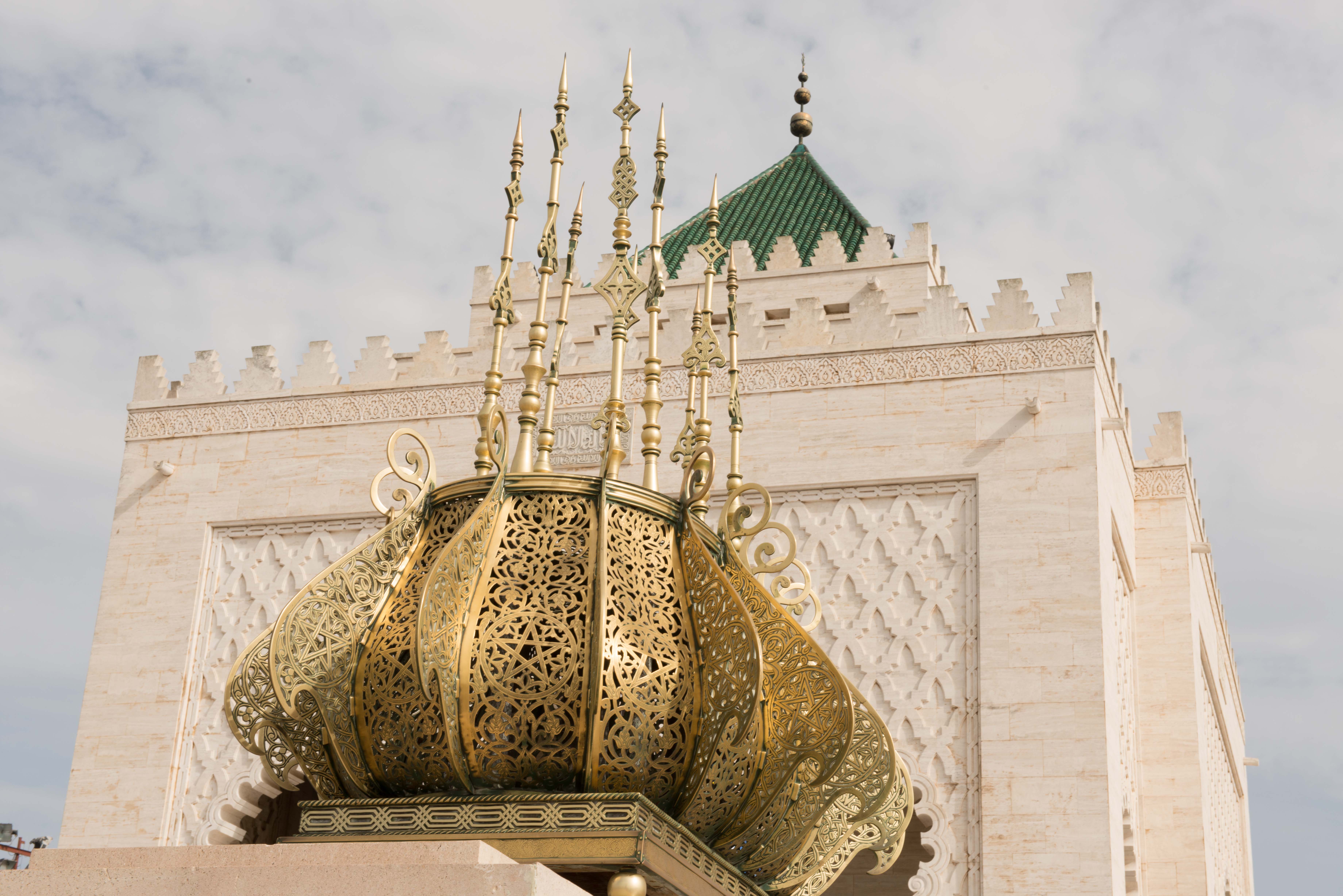 This deceptive simplicity becomes more ornate as you approach the entrances at each of the four sides, with their marble pillars and carved doors.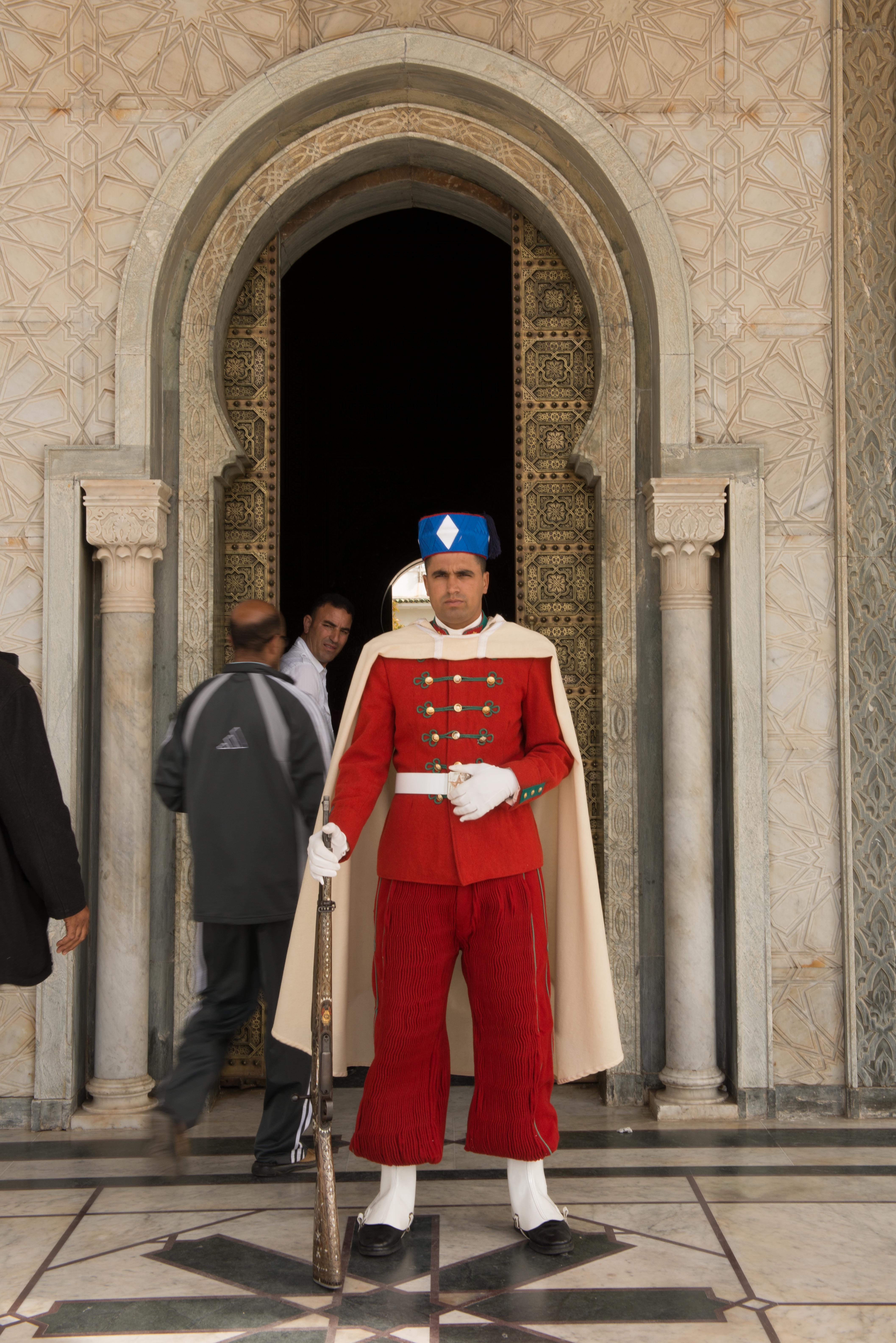 Even these do not prepare you for the interior. The three ground-floor tombs, viewed from the balcony, of the King and his two sons are carved from white onyx.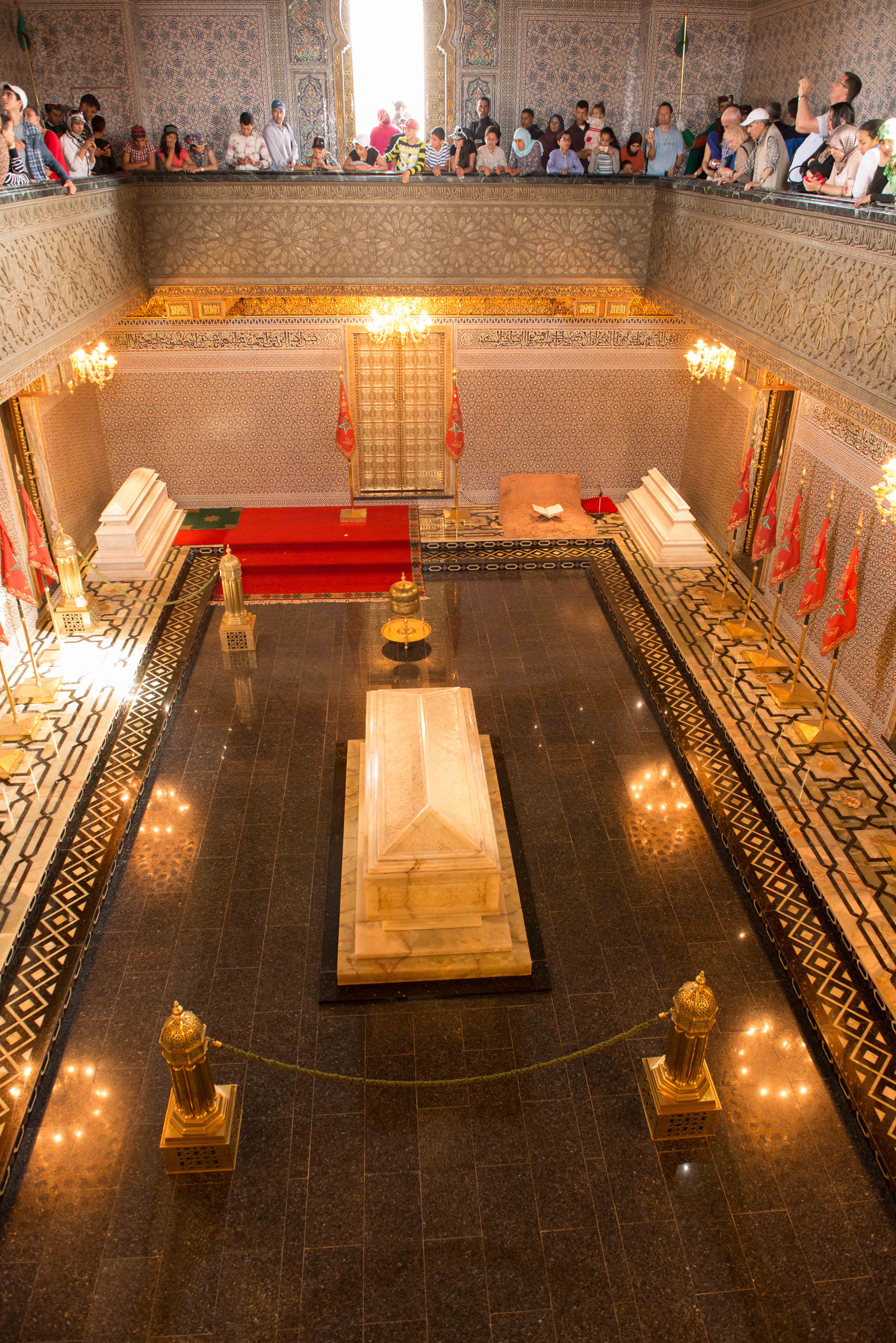 Mosaics of zellij rise from the marble floor to a ceiling covered with gold leaf and hand-carved cedar wood.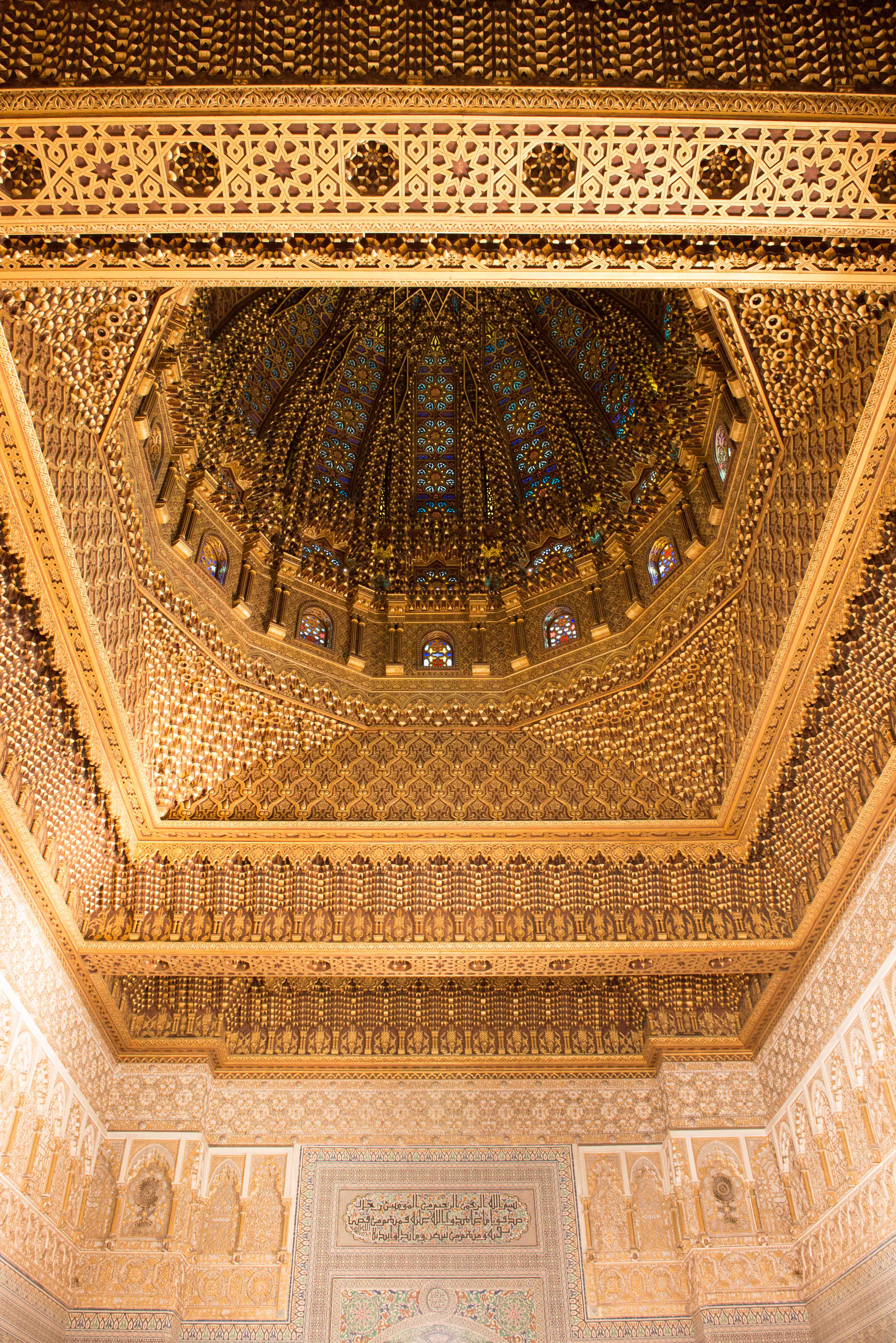 Staring up at this copper lamp outside, framed by the arches, was almost like stepping into an M C Escher drawing.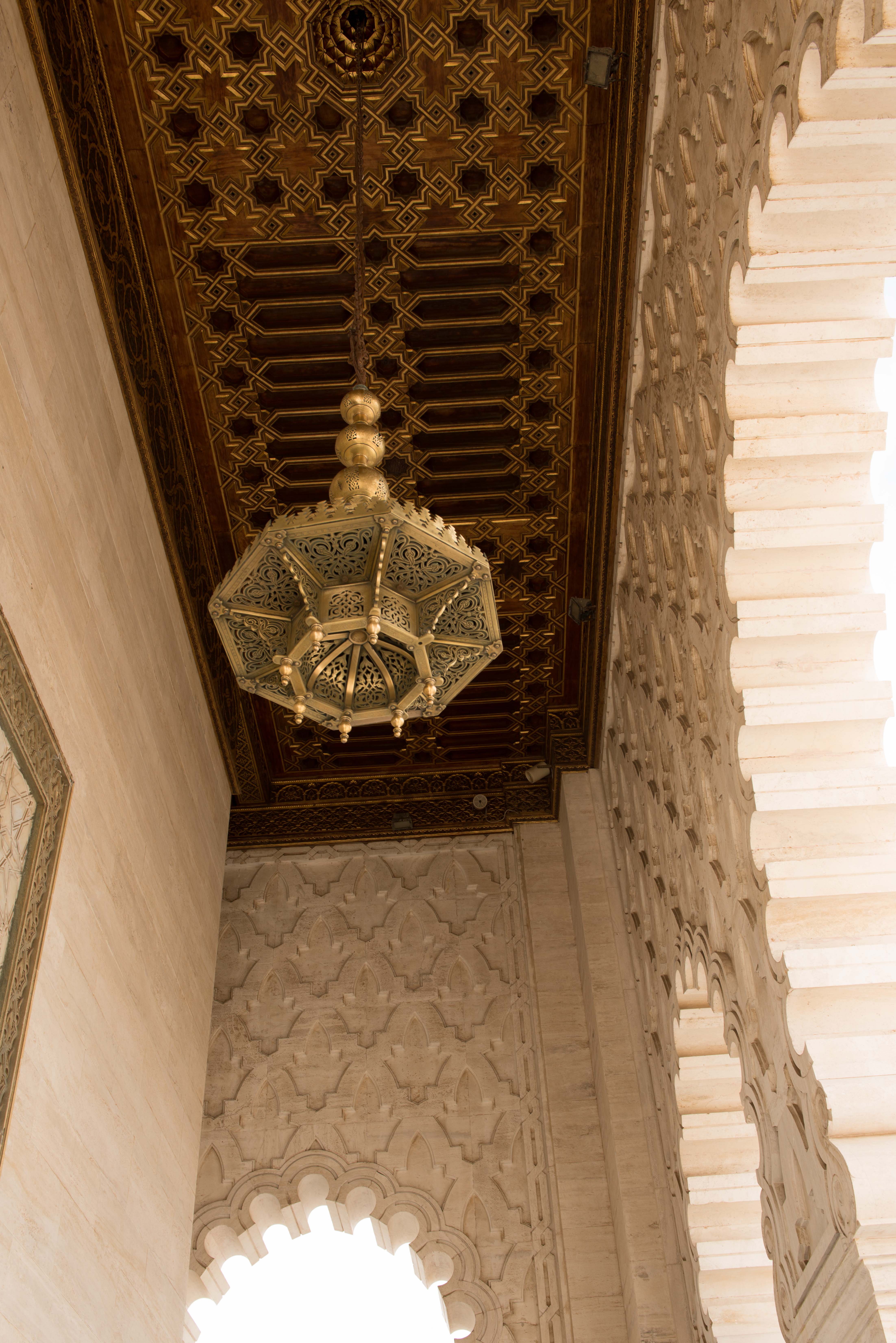 A couple of kilometres away lie the ruins of Chellah, first styled by the Phoenicians, and later enlarged by the Romans in around CE40. The city was occupied until 1154, when it was abandoned in favour of Salé. In the 14th century a necropolis was built on top of the Roman ruins, together with a defensive wall and the towers that stand today, inhabited by storks that clack their bills somewhat menacingly.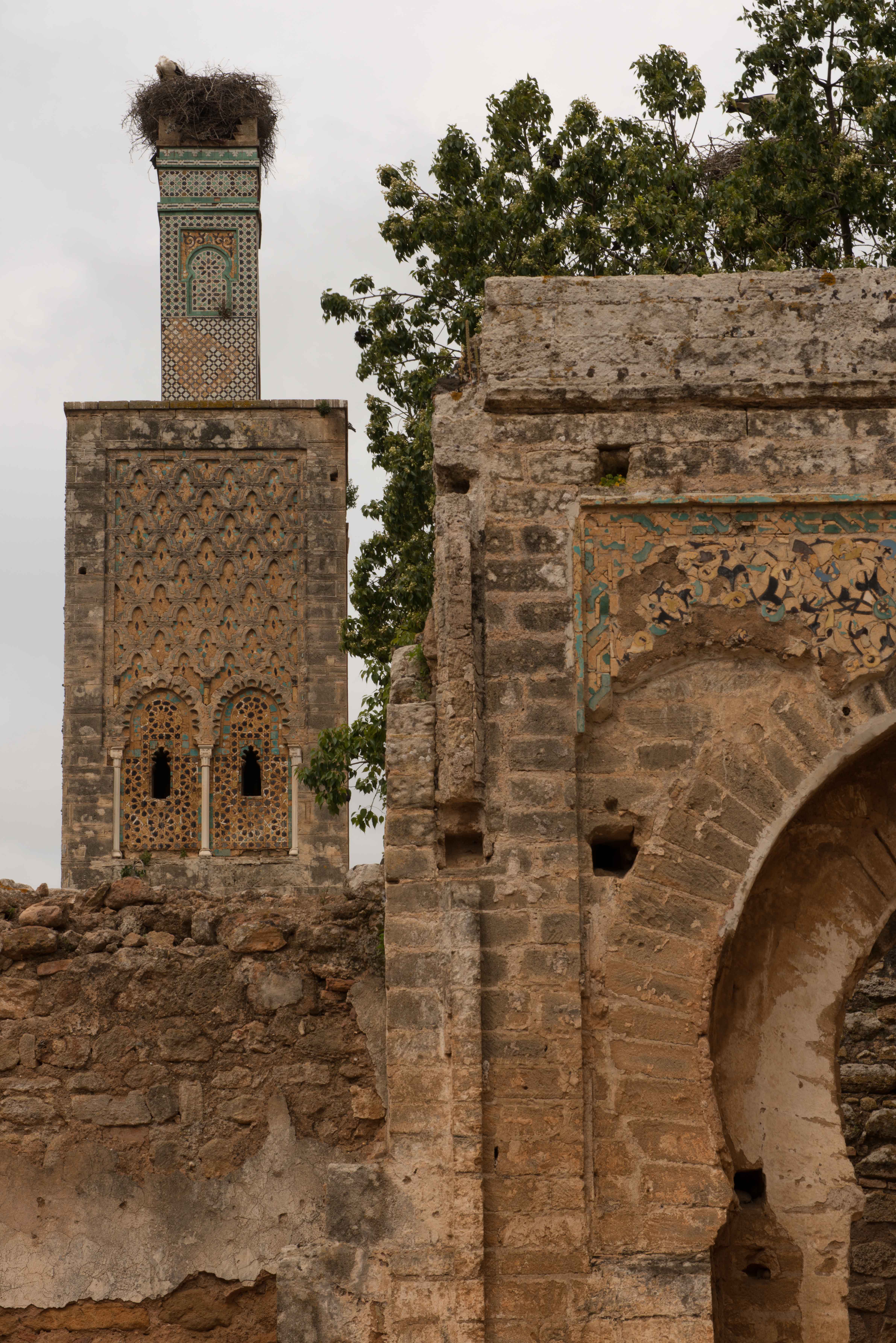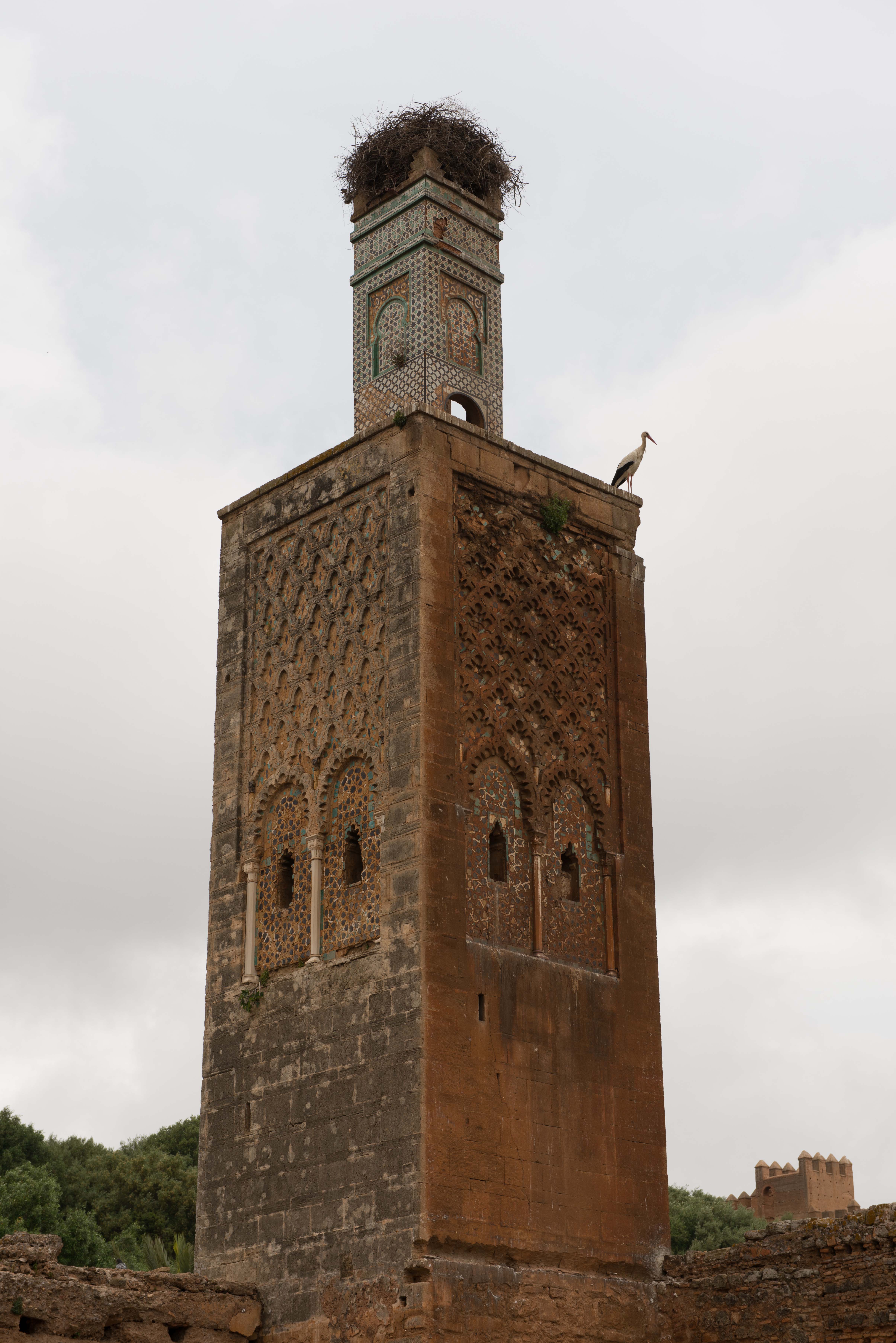 The eel pond is reputed to have magical powers. Local women allegedly feed hard-boiled eggs to bring fertility and easy childbirth.
Finally a surprise. On my walk back to the hotel, on the corner of a suburban street, these two young storks were seeking a meal, unfazed by how close to them I was standing.