Timor Leste: By the Shore at Dili
Timor Leste has had a very troubled history, up to its independence in 2002, following 24 years of Indonesian occupation and centuries of Portuguese rule. Prior to independence nearly 70 per cent of all buildings, homes and schools were destroyed, and an estimated 75 per cent of the population was displaced. Internal political tensions, which had been sidelined during the occupation, came to a head in  2006, when the United Nations sent in security forces to restore order when unrest and factional fighting forced 15 percent of the population (155,000 people) to flee their homes. In 2008, the president, José Manuel Ramos-Horta survived an assignation attempt, despite which the country remained calm and stable. Despite the challenges, Timor-Leste has progressed, particularly due to its petroleum revenues and Government spending on infrastructure. According to the World  Bank, 'The World Development Report 2011 found that on average post-conflict countries take between 15 and 30 years – a full generation – to make the transition out of fragility and to build resilience. It is against this backdrop that social and economic development in Timor Leste can be seen as remarkable'.
There is no tourist infrastructure at present, but I can imagine that, with its natural features and resources, Timor Leste may become a popular destination in years to come. Now is a good time to visit, while the country's natural features and character remains unspoilt.
I was fortunate to visit Timor Leste, where my partner was working as a consultant to a development project, for a few days in 2012. I found the local people in Dili and elsewhere kind, gentle and friendly and felt no worries about walking alone through the streets of Dili, or along the shore. Here are a few of the memorable images of that brief stay.
One of the first things you notice are the bright yellow taxis, usually in a state of poor repair, and the brightly-painted buses plying for trade. The sea crocodile is an iconic feature here and the subject of a myth that the island was formed from a crocodile who was saved from death by a small boy.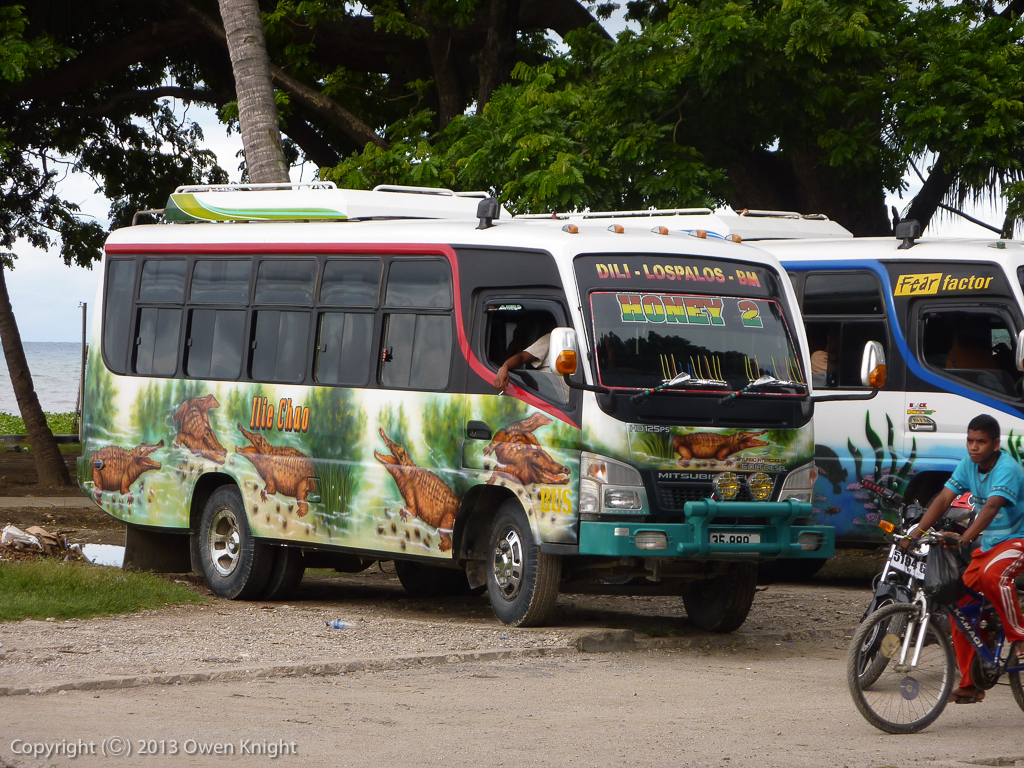 There are, nevertheless, warnings against swimming in the sea. you do not need to know the language to understand the message contained in this sign. I am sorry to say that I did not see any. Certainly the local people appear to take little heed and can often be seen swimming in the sea.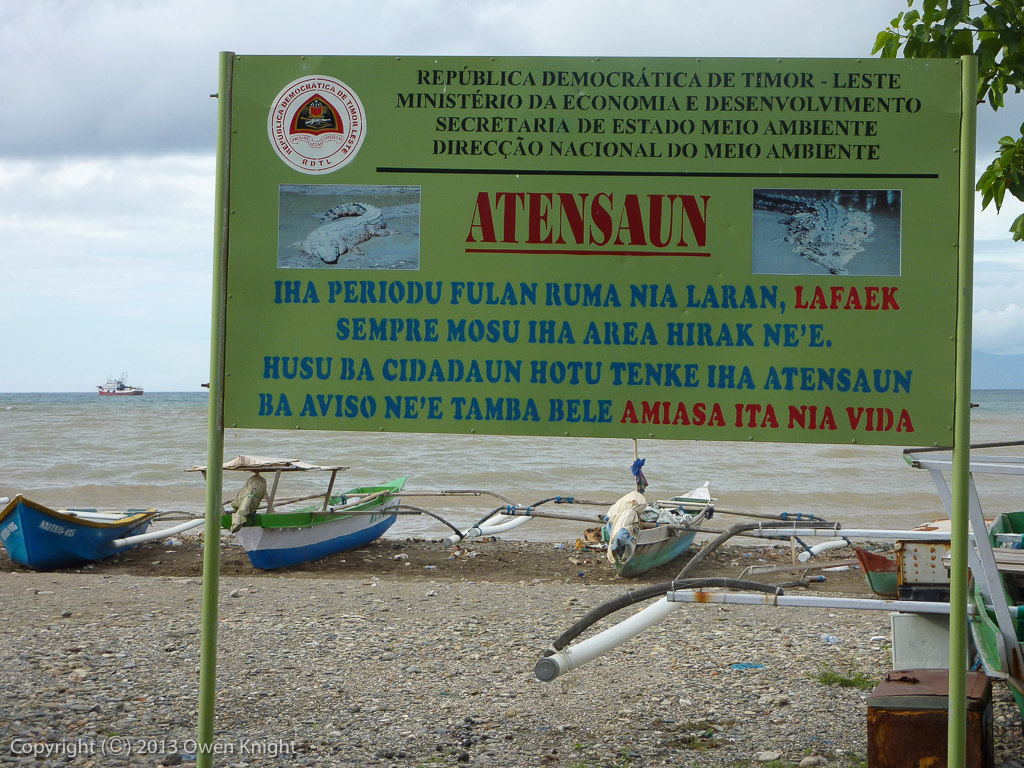 The wooded hills run down to the sea, providing a dramatic frame to the costal views. The shoreline path was being improved while I was there. I am not sure what was buried in the small grave; I can only assume it was one of the many feral cats, of which more below.
In the distance can be seen the Christ statue, a smaller version of Rio de Janeiro's Christ the Redeemer, on Cape Fatucama.


These vividly-coloured wooden outriggers are so solidly built. I wonder how many people it takes to manoeuvre them in and out of the water.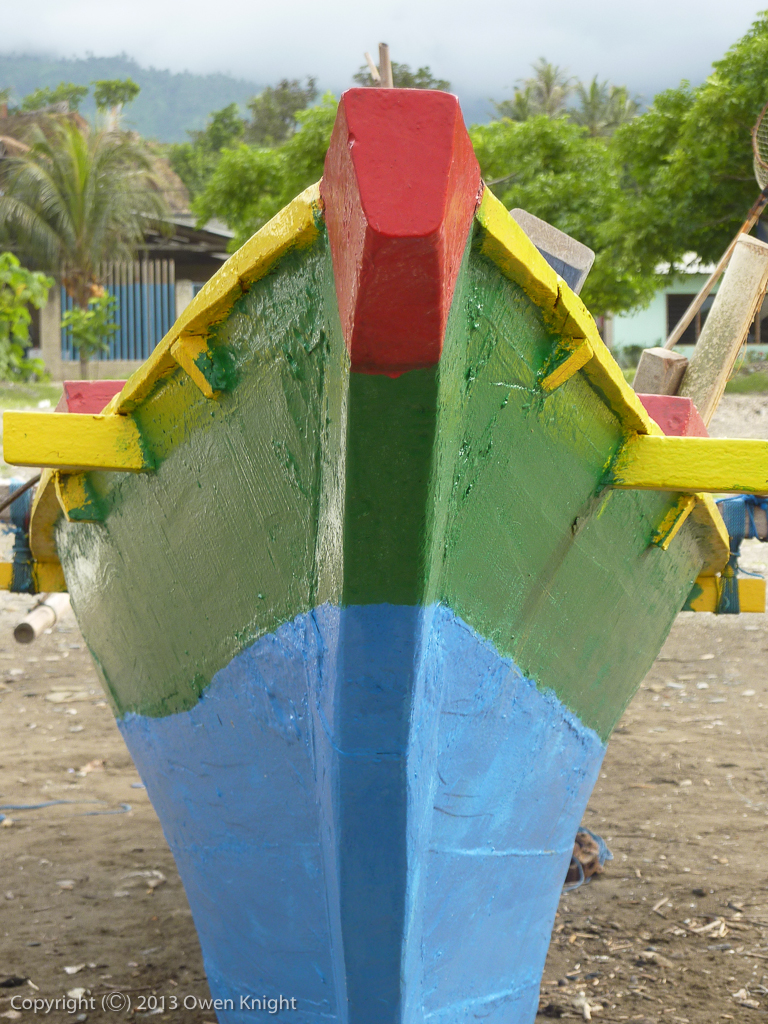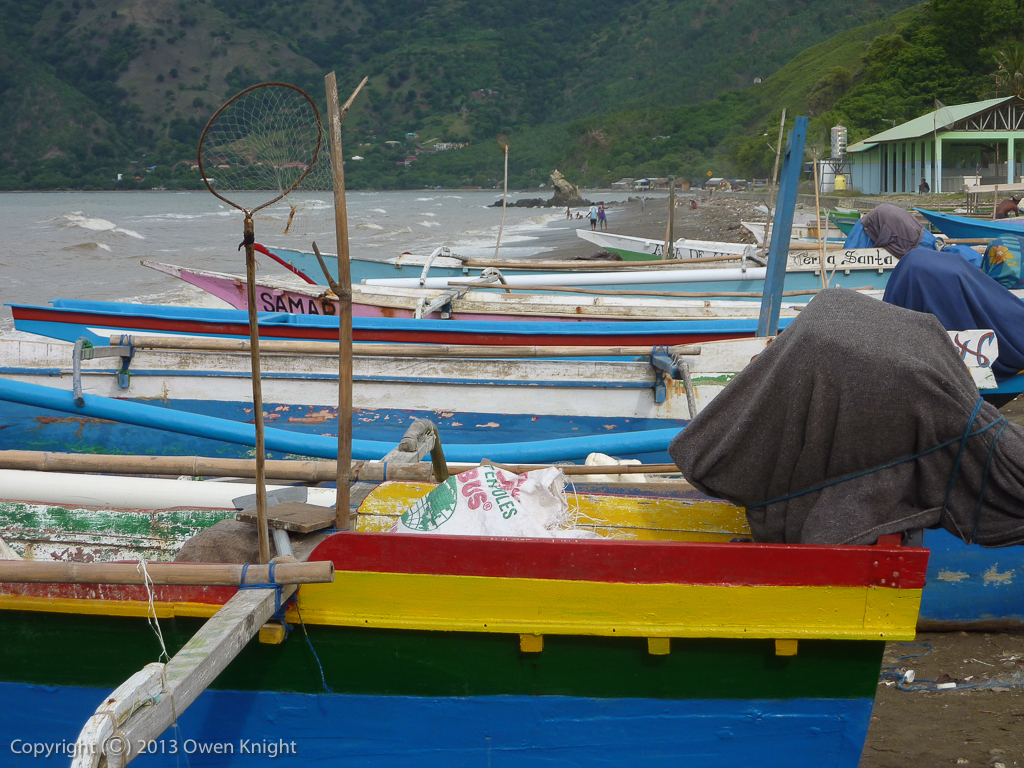 There was a determined effort being made to clean up the shoreline…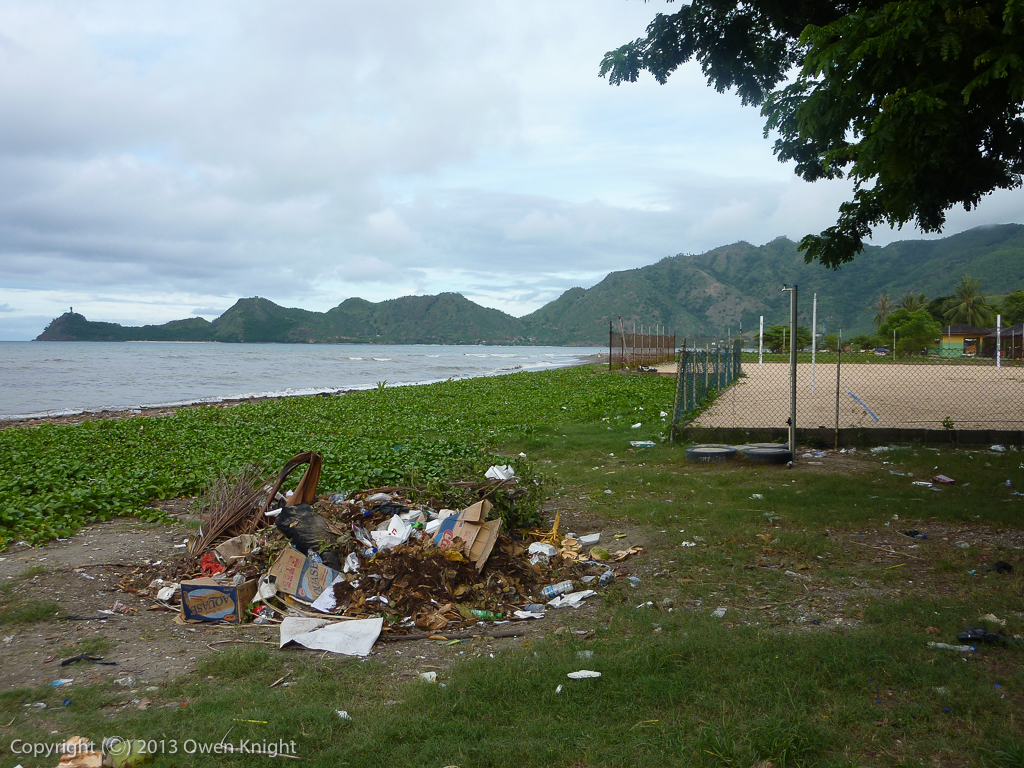 …though people were sharing the 'beach' with various livestock…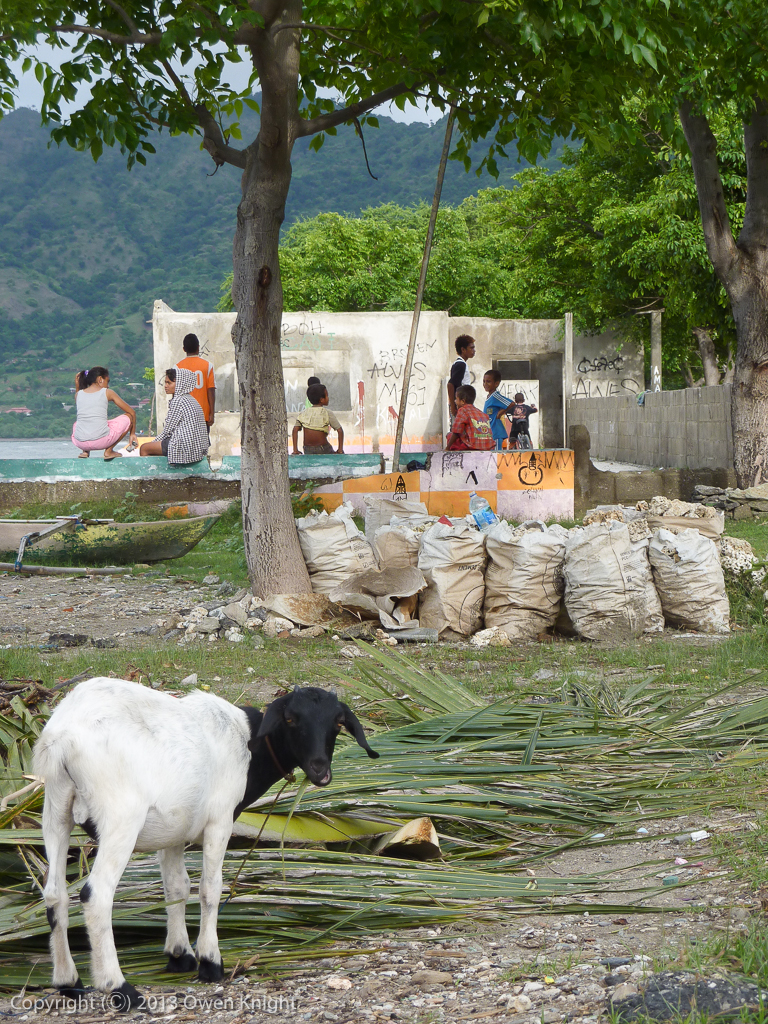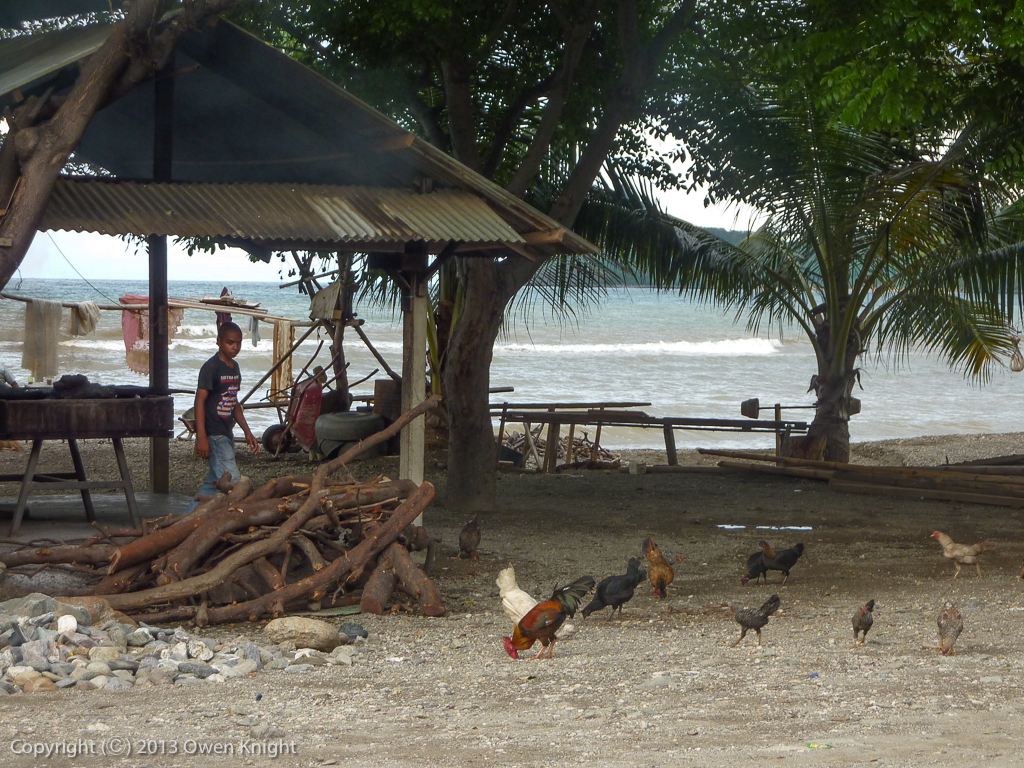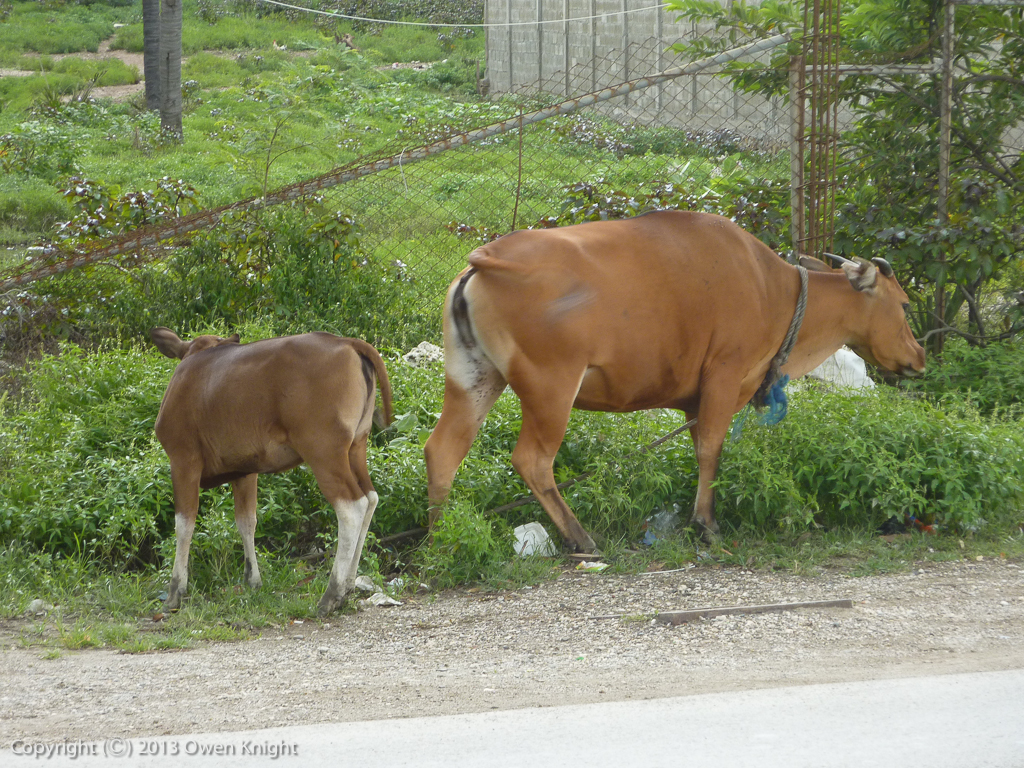 …and the ubiquitous feral cats, which seem to rely on the charity of diners at the fresh fish restaurants.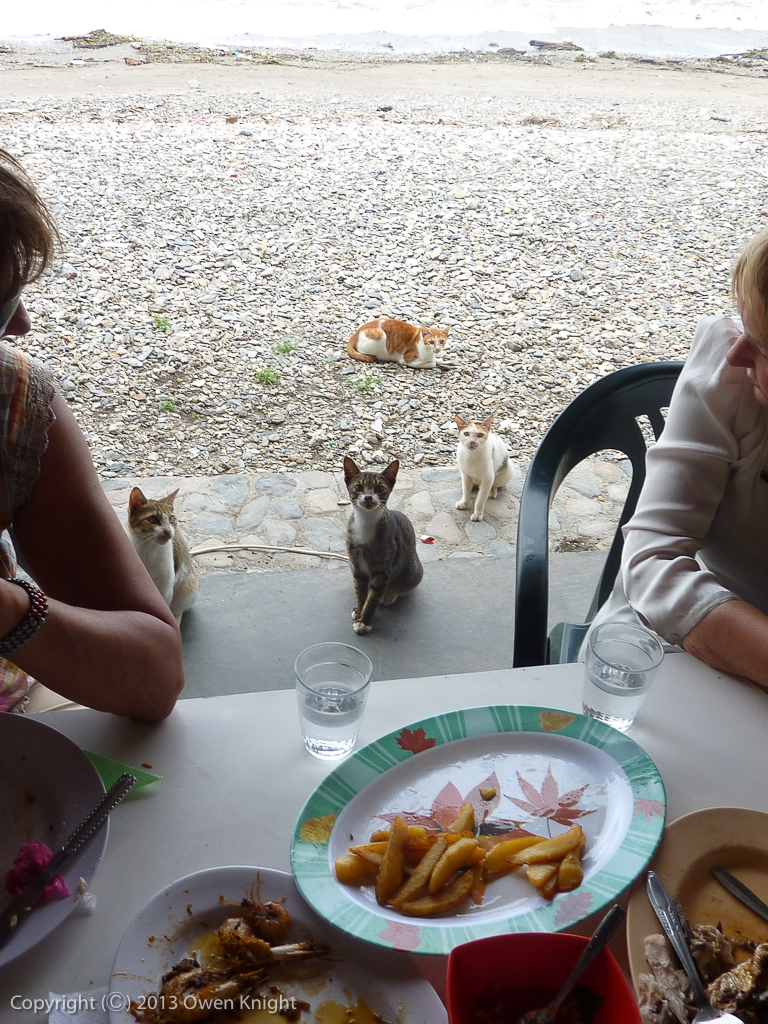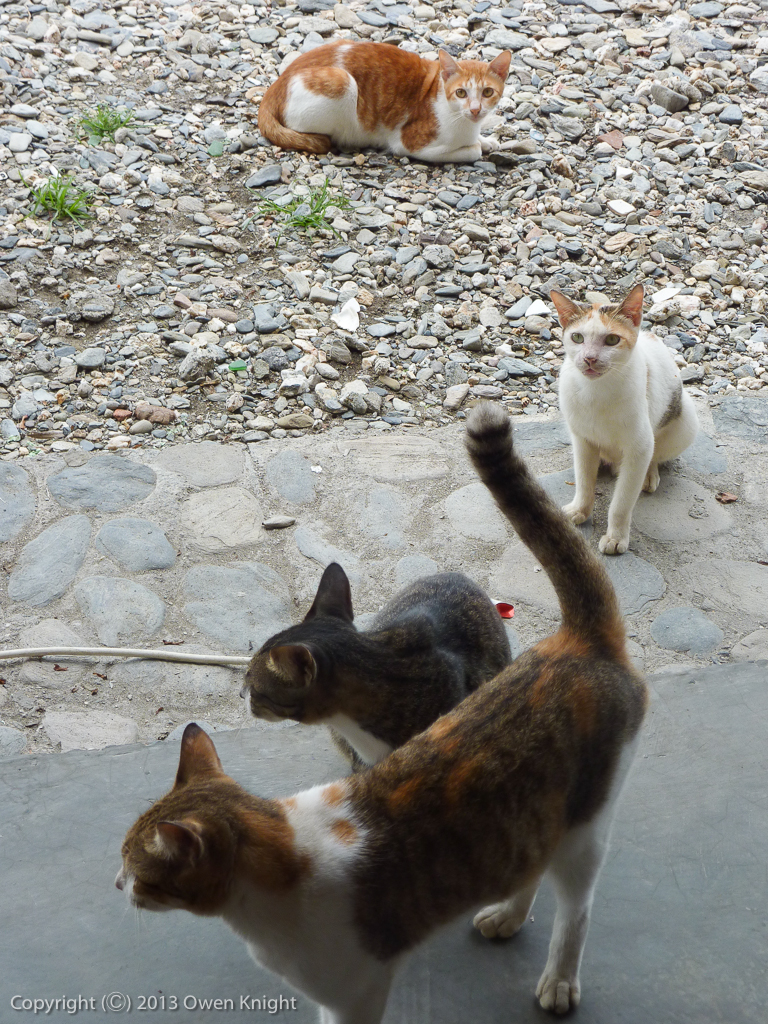 …before sleeping it off in the fishermen's' nets.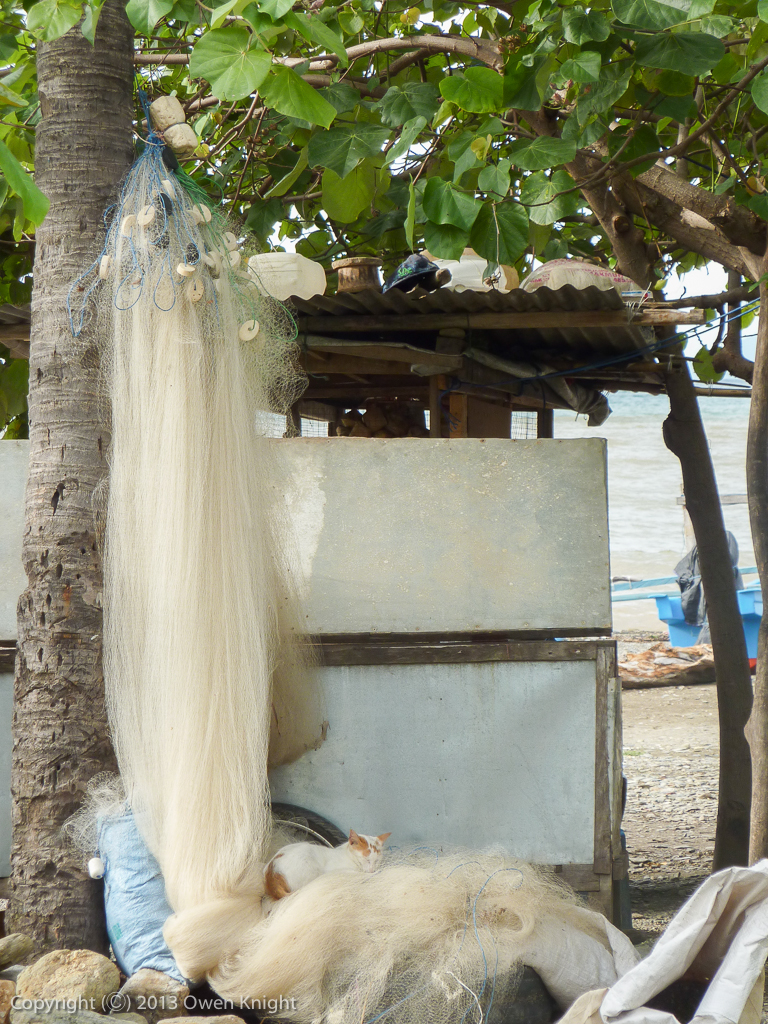 Rust, neglect and decay create their own colour palettes. These abandoned vessels decorate the shore in a unique and constantly-changing way.
There is much to see in Timor Leste. I hope to go back one day. More posts from here will follow.