Kenya: Lake Nakuru National Park
I had always thought that a safari-style trip would be boring, that you would drive for days in discomfort, seeing nothing in the way of wildlife, aside from the occasional distant view of animals that would run away at the sight, sound or smell of a vehicle and its human occupants. How wrong this proved to be. From Nairobi, we hired a driver with converted VW camper for the day and set off to Lake Nakuru National Park, a journey of two hours. This in itself was interesting, passing shanty towns of incredible poverty, with local people selling their fruit and vegetables by the side of the road.  The park is located in the Rift Valley. There is occasional wildlife to be seen on the  way, the park being linked to Nairobi by a 'wildlife corridor'. To someone who had not been to Africa before, it was strange to see zebras grazing by the side of a busy road.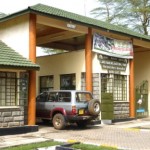 Within a kilometre of the entrance there were enough opportunities for photographs to keep us busy for half an hour. Baboons, zebras, gazelles, buffalo and a variety of birds, including pelicans, flamingos and others whose species I cannot remember.
This beautiful bird and its shy partner were both colourful and iridescent. You can see the reflected light glare from its wing. In contrast, magnificent larger birds mixed with others of various sizes along the side of the lake. All this within a short distance of the entrance and in the  late morning, whereas I had thought a dawn rise would be essential.
One of the many pleasures was to see the random patterns formed by the grazing animals and birds. Had you wished them to pose for a photograph, you could not ask for more. I wonder whether they recognise patterns themselves, and find comfort and security against predators from arranging themselves in groups where all-round visibility affords early warning, if not protection.
One of the many highlights of the day was to locate a family of lions: a male, two females and their cubs. The drives were in communication with the park rangers, who were alerting them to where interesting groups or individual animals could be found. The lions were lazing on a rocky outcrop, accessible up a short, steep, track, with deep holes to be negotiated, as well a number of other vehicles queuing for the best view. The lions were totally unconcerned as we, and three or four other vehicles, took turns to stop within ten metres of them. It is only when you come this close that you notice how large their paws are. The cub is quite young, as can be seen from its clearly-visible spots.