Djibouti City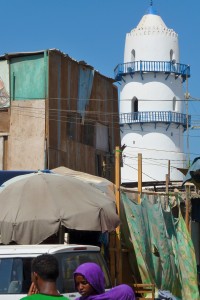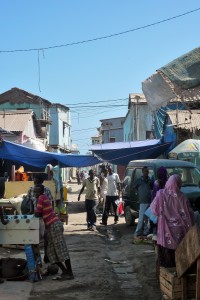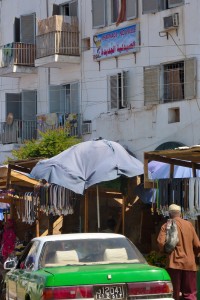 In any country, a visit to a local market is essential, as part of the process of discovery and understanding a little more of how people live. The central market in Djibouti City is a thriving place, stretching down from this mosque (above left), which at first sight resembles a Greek windmill. From a central square, the market extends to a grid of narrow streets, some themed by foodstuffs, others by clothing. The people are not always keen on being photographed, which should be respected, and is the reason I avoided photographing the busiest places and individual people. But I was fortunate in being accompanied by  a young local man who had just finished work and kindly spent over two hours showing me around and asking permission to photograph in Afar, Arabic, or Somali. At the end of the tour, he refused to take either money or gifts.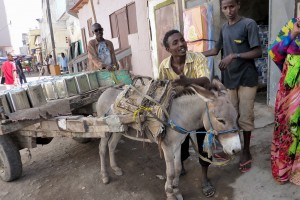 Donkey-drawn carts are a common method of  transporting goods over short distances in the centre of town. Many of the carts are heavily laden, although all the animals I saw appeared well treated and in a healthy condition.
This donkey owner seemed quite proud of his animal and was happy to be photographed, although there was some banter with my guide over payment to photograph, which he said I should refuse. An amusing postscript to the photograph was when we later saw the cart and its owners trying to negotiate a busy roundabout away from the market. There was a sudden loud explosion of one of the tyres, which appeared to have little effect on the donkey, but brought cars and pedestrians to a standstill , as though a gun had been fired.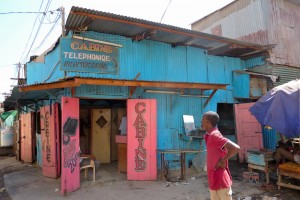 This international telephone cabin was one of several, each of which had a steady flow of customers. The simple construction, with its corrugated iron roof and brightly decorated walls and doors shows that you need only basic resources to start a business.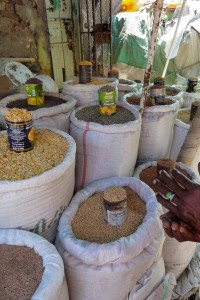 Seeds and grains of many types are measured out for sale in old cans. The quantity and variety of produce is surprising, particularly as Djibouti is such a barren land, with most food imported. Fresh fruit and vegetables arrive overland from Ethiopia, a green and fertile land though, being landlocked,  makes good use of Djibouti's international port.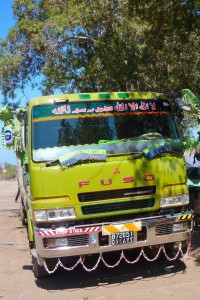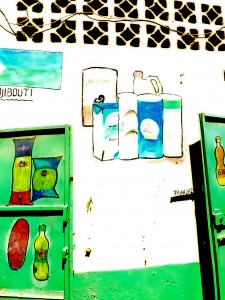 Many trucks are decorated in a bright and personalised  fashion. Wing mirrors on cars, taxis and lorries are often covered with coloured felt with serrated edges, perhaps to protect against knocks amid the city traffic, whose driving style is best described as assertive. Many shop fronts and entrances bear simple, colourful illustrations of their produce.
The women who can be seen in this scene did not want to be photographed but, like the donkey-owner, were proud of their animals and delighted for them to be.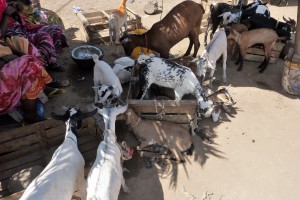 Elements both old and new can be seen from the fishing port, where many styles of vessel are harboured together. Looking seaward, large traditional vessels contrast with modern naval ships and storage tanks on the quay.
The view from my hotel window underlines the strength of the international naval presence.I am told that the EC anti-piracy ship is based here, though I cannot say whether one of these may be it.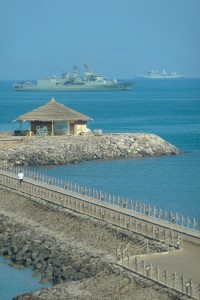 And finally, a hoopoe and friend on the hotel lawn…